from TeleSUR
As Israeli government mulls the annexation of the Palestinian occupied territory of the West Bank, the New York Times and a local Israeli newspaper seem to embrace the potential plans by removing the West Bank from the map while only naming Israel and the Palestinian Gaza Strip.
According to Electronic Intifada website, the map was included in the print version of an article about secret Israeli airstrikes in Egypt, which are approved by the government of Abdel Fattah el-Sisi. The article was published on Feb. 3, according to the website.
Meanwhile, the online version of the article did not include the same map but a photo attached with it shows Israeli Prime Minister speaking at an event for the Jerusalem Post with a map behind him that also omits the West Bank from a map showing only Israel and Gaza.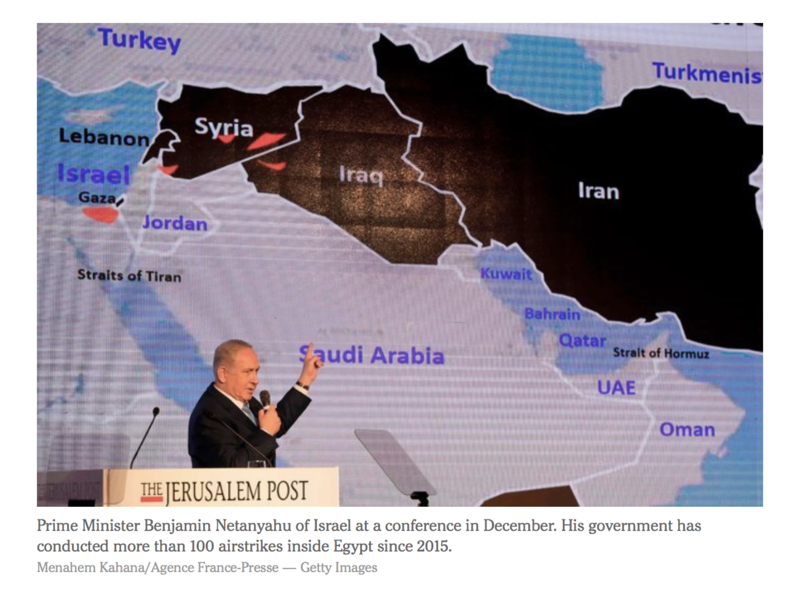 "One possible conclusion is that Netanyahu and The Jerusalem Post are promoting a future in which some two million Palestinians are squeezed into a Gaza Strip bantustan while even more Palestinians in the West Bank (including East Jerusalem) are forced into a greater Israel in which they may or may not have voting rights," Michael F. Brown wrote for Electronic Intifada…
[read more here]
Filed under: gaza, Israel erasing West Bank, Israeli fascism, palestinian rights, The West Bank, West bank, What Our Intersests in the Region Did This Week |