by Scott Creighton
UPDATE: The Palestinian representative in FIFA has removed his request to have Israel banned by the organization based on an agreement between FIFA, Palestinian soccer and Israeli soccer representatives to form a commission to oversee conduct in Israel and Palestine making sure that Israel does not hinder the Palestinian soccer team.
Palestine has dropped its motion to suspend Israel from FIFA, president of the Palestinian Football Association Jibril Rajoub said. A committee was proposed to monitor the situation between the Palestine and Israeli associations, which FIFA approved…He ( Israel's Football Association, Ofer Eini )proposed a joint committee between Israelis, Palestinians, and FIFA, which was approved by the organization..RT
——–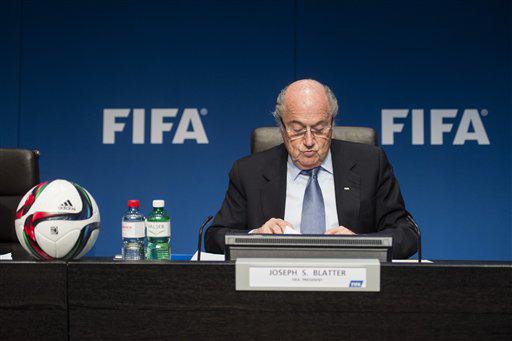 The U.S. Department of Justice unveiled a series of indictments the other day leveled at the organization of international soccer, FIFA, for various charges of corruption,  money laundering and… not building enough soccer fields for kids in 3rd world countries… of all things.
The indictments were announced by the new attorney general Loretta Lynch in a grandstanding press conference that made it seem like she was going after the mob or organized crime from Wall Street. Of course everyone knows the Justice Department wont actually go after the mob or organized crime from Wall Street.
But they will apparently go after international soccer federations which are not based in the United States and therefore Loretta Lynch has absolutely no jurisdiction over them.
Most MSM outlets fail to mention that simple little fact.
So why are they doing this?
In the new TPA (Trade Promotion Authority) bill there is an interesting clause which basically says the U.S. wont be allowed to enter into trade agreements with any nation that has anything to do with an active BDS movement (Boycott, divest and sanction)
Though this case is not a "trade" deal, it is indicative of the new normal here in 'Merika: everything for Israel.
That's right. FIFA is holding their annual conference starting today and one of the main issues at hand is a pending vote on the removal from the league of Israel due to their treatment of Palestinians. Specifically, the treatment of Palestinian soccer players.
Lynch's press conference comes just two days before FIFA is scheduled to hold its annual congress in Zurich. One of the items up for consideration at the congress is a vote on whether or not to suspend Israel from the association. If two thirds of the organization's members vote in favor of the suspension, Israel will be barred from competing.

The measure has been introduced by the Palestinian Football Association and stems from a number of grievances including arrests of Palestinian football players and limitations on their movement between Gaza Strip and the West Bank. And on January 31 of this year, two players were critically injured by gunfire from Israeli soldiers as they were on their way home from a practice in al-Ram, in the central West Bank.

Jawhar Nasser Jawhar, 19, and Adam Abd al-Raouf Halabiya, 17, were both shot repeatedly and then beaten, and have been told by doctors they will never play football again. Richard Edmonson
Seems to me to be a rather reasonable request considering what Israel did to two of Palestine's national soccer team members.
These indictments were intended to pressure the organization to drop the pending vote that is scheduled to take place today and if they didn't do that, and if not that, to have the group remove the president of FIFA from office even though he hasn't been officially charged with Lynch's bogus indictments.
That didn't happen. The president of the organization pictured above declined to resign.
Outside the organization's main offices where they are having the conference, protesters are out there showing their support for the vote to oust Israel.
You have to remember, soccer is big in Israel and it's big across the world.
Israel could easily mitigate the damage they have done to their own image worldwide by simply stopping their apartheid behavior and being a decent neighbor to the Palestinian people.
Or… instead… they can go through these convoluted channels and get Loretta Lynch to make a fool out of herself with these ridiculous charges against the organization which any sane person knows she has no jurisdiction over. (she claims since FIFA sometimes in the past had meeting in the U.S., that means she has jurisdiction over FIFA and has even asked the Swiss government to extradite the accused to the U.S. before the meeting could take place.)
Well, that didn't work because the meeting is taking place anyway.
So what happens next?
You guessed it… terrorism.
A bomb threat has been received at the FIFA congress in Zurich, Swiss police have confirmed to SRF News.

Follow RT's LIVE UPDATES on the FIFA corruption arrests

"I can confirm there has been a bomb threat against the FIFA congress, officers have been dispatched," a spokeswoman for the city police said.

Authorities were alerted around 11 a.m. local time, police spokesman Marco Cortesi confirmed. FIFA also acknowledged receipt of the threat to news website handelszeitung.ch.

Local journalists reported that they were forced to leave their places at the venue.

It remains unknown whether the congress will resume.

The FIFA presidential election is set to take place on Friday, with many calling for current president Sepp Blatter to step down following the corruption investigation into several of the organization's officials. However, Blatter is expected to be re-elected for a fifth five-year term.

Protests have been taking place outside the meeting venue on Friday, with pro-Palestinian demonstrators calling for Israel's suspension from FIFA. RT
You have got to be fucking kidding me.
They can't stop them with their BS legal wrangling from over here on this side of the pond so someone comes up with their STANDARD FUCKING REACTION TO EVERYTHING… TERROR. Terrorize the members of FIFA into postponing the vote to remove precious Israel from the league.
I'm sorry, but that is just sick.
Of course they didn't place a bomb in the building. Loretta and her buddies got the Swiss police to pretend like someone threatened the location so they could come in and physically shut the conference down. Either that or Loretta put a piece of cloth over her cell phone and made a call doing her little "Arab terrorist" impersonation.
It is remarkable and quite telling that these are the kinds of measures they will go through to defend Israel at every turn.
How difficult would it have been for Israel to figure out they should just arrest the guys who shot those two players and apologize to the Palestinian team and say "you know what? You're right. We're sorry. We will make sure you can travel to your practices without hassle from now on and we hope to meet your players on the field one day in the future"
How difficult is that?
That tiny little bit of decency is beyond their comprehension.
And what's going to happen even if they are successful in stopping the vote and the Israeli team gets to continue playing in international competition?
Don't they understand it's the Israeli soccer players who are going to pay the price for this? They will be heckled and ridiculed mercilessly everywhere they go. And none of this shit is their fault.
WTF?
It's beyond comprehension at this point. When collusion and terrorism are the easier choices than simply saying "I'm Sorry" something is so fucking wrong with someone's mindset you have to wonder if the crazies aren't running the asylum. And that goes for Israel as well as the U.S.
Filed under: FIFA hogwash, Scott Creighton | 6 Comments »