by Scott Creighton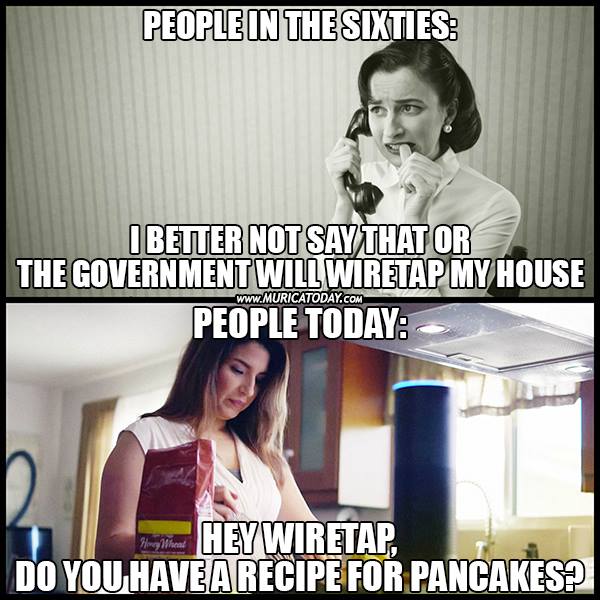 The "internet of everything" is big business. It's big business, big opportunity and big control. It's Big Brother. Today's news exposes something awful. Not only are our congress-critters allowing for Big Business to turn everything you consider private into a commodity, but the fact is… THEY ALREADY DO IT.
Organizations like EFF are busy sending out mailers asking for donations so they can fight "the dismantling of broadband privacy" rules created back during the last moments of the Obama administration. Seems like a noble fight, doesn't it? Accept, you never had those protections in the first place. Not during the Obama administration anyway.
The FCC's rule titled "Protecting the Privacy of Customers of Broadband and Other Telecommunication Services," 81 Fed. Reg. 87274 (PDF), was put in place after a long fight on Dec. 2nd, 2016. It was set to go into effect on Dec. 4, 2017… long after the Trumpster was elected and his corrupt gaggle of neoliberal destroyers he calls his "administration" had plenty of time to undo the rule. A year in fact.
"The FCC rules were put in place in 2016 to prevent consumers' private and sensitive information automatically getting into the hands of Internet Service Providers (ISPs) such as AT&T, Comcast and Verizon…. That rule is scheduled to go into effect on December 4, 2017." RT
That RT evaluation of the rule is a bit misleading. It prevented these companies from monitizing your very personal information, not from collecting it. And it only prevented them from selling your most personal information IF YOU TOLD THEM THEY COULDN'T.
They have been collecting it since the USA Freedom Act and CISA went into effect. This rule was ONLY set to make sure customers had a choice to opt-out of the monitization part, essentially keeping Big Telecom from turning more of a profit on the data (more meaning, they are already paid by the government to collect and store said information for the purposes of "national security")
Filed under: Aaron Swartz, CISA, CISPA, Donald Trump, fascism in America, Globalization, Neoliberalizing America, Net Neutrality, NSA "Leak" Scandal, Scott Creighton, SOPA and PIPA, The Miracle of America, The Trumpening, USA Freedom Act | 9 Comments »