by Scott Creighton
The poster-girls of talent-less performance art for neoliberal regime change are back doing their stupid little shtick in Russia for oligarchs and banksters in New York and London once again.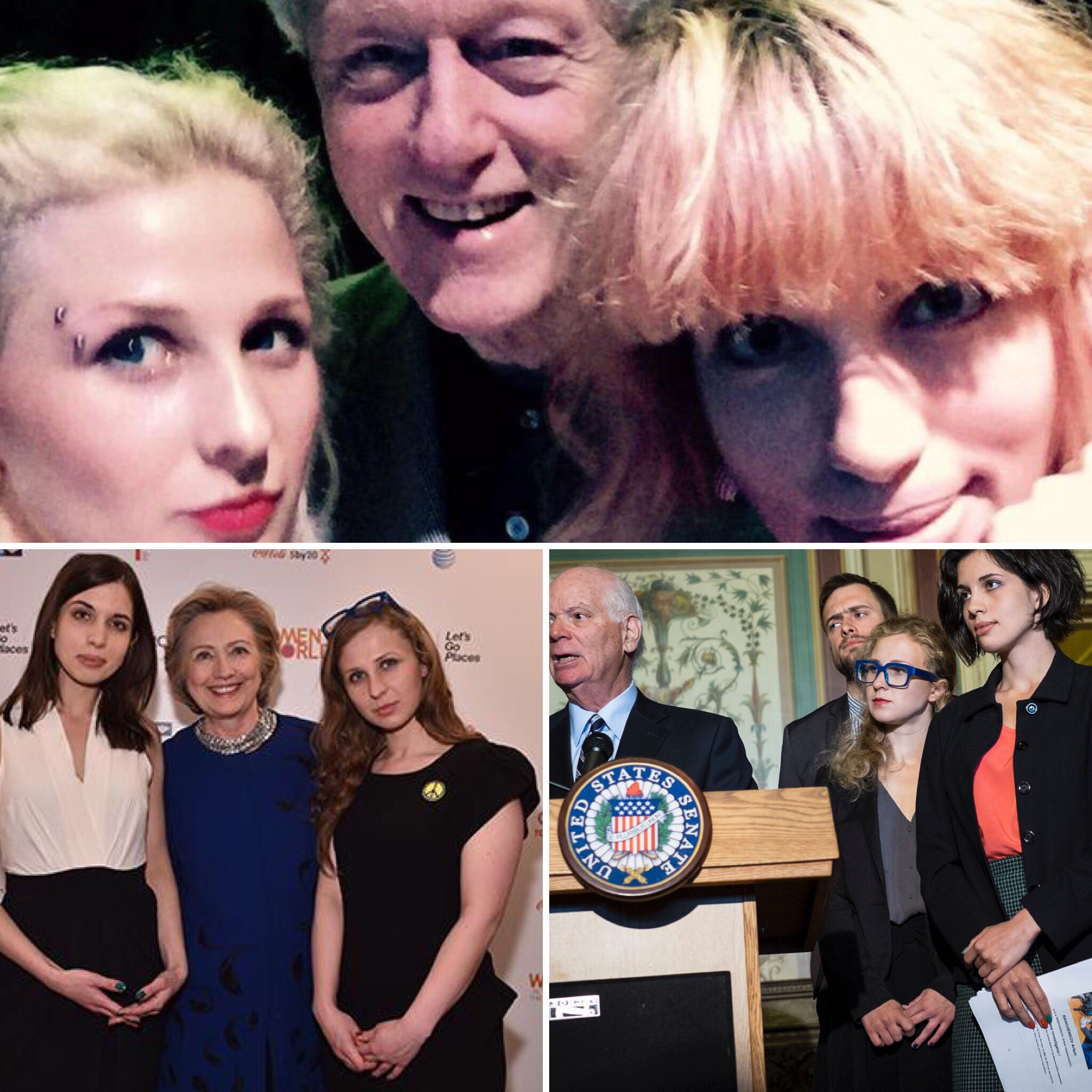 The other day during his new security speech, the Duke of Orange said that American voters are in charge of our "democracy"
I guess he hadn't heard of Ajit Pai and the death of net neutrality or paid any attention to the opinion polls taken prior to the Republicans passing of the fascist "Give Everything To Big Business and Oligarchs" tax bill.
After the stolen Democrat party primary of 2016 and the fact that the ONLY thing the establishment hated about the general election that year is that the will of the people won out in the end, you would have to be especially stupid to believe in "American democracy" anymore.
Of course those of us who warned you about this growing trend years ago were dismissed as "conspiracy theorists" weren't we? Of course you could say the same thing about 1. the U.S. creating "ISIS" 2. the banksters causing the economic meltdown on purpose so they could dictate the reconstruction and turn massive profits 3. the existence of the Deep State 4. the Deep State trying to rig the election for Hillary 5. false flag terrorism.. you could say the same about all of those and more.. but who's counting, right?
Calling someone a conspiracy theorist is so much easier (and safer career-wise) than thinking, isn't it?
During that same security speech, which Paul Craig Roberts rightly explains belonged more to the neocon Military Industrial Complex (MIC) than it did "candidate" Trump, the Duke of Orange spent a lot of time demonizing Russia for daring to oppose a few of our "national interests" abroad. You aren't allowed to get in the way of our glorious Big Business' profit making vulture capitalist agenda overseas, don't ya know. Doing so makes you evil. Especially when you interfere with the evil we do.
We have always needed to demonize Russia. At least "always" since WWII I suppose. The MIC needs fear and loathing to survive. It feeds on it. Thus the first incarnation of the Cold War where the "crazies" (what they called the neocons back then) hyper-inflated the threat posed to us by Russia and the Soviet Union justified massive military spending that proved Eisenhower's last warning to us was warranted.
North Korea and "ISIS" these days serve in much the same capacity but Russia is the bigger threat and thus, the bigger payday. After all, they interfered in our liquid natural gas mergers and acquisitions program in Ukraine and then they dared to help defend the people of Syria when we had Greater Kurdistan on our minds.
So Russia became a serious threat to our oligarch's way of life and that cannot and will not be tolerated. Ever. Even by a fake populist president like Trump.
Hillary Clinton was the neocon preferred choice for 2016. That's not even something you can call me a "conspiracy theorist" for writing. It's true. And the election of Trump bore out a new attack on the Russian government… "collusion" as an attack on our "democracy"
Someone must have laughed like a tickled schoolgirl when they came up with that one.
Truth be told, Russia never attempted to thwart our election process. It's so absurd the only accusation against them that stood the test of time was the report from Jan. 6th 2017 by "20 handpicked agents working for 3 agencies" of the Deep State which ultimately only proved that RT is a more accurate outlet for journalism than anything we have here in the Shining City on the Hill.
The irony is, if anything Russia HELPED American democracy by exposing criminality of Hillary Clinton and her gaggle of globalist yes-men… and that is the ultimate sin, is it not?
In truth, the only election tampering that has happened between Russia and the United States was our election tampering back when Hillary Clinton tried to create a color revolution in Russia before one of their recent presidential elections. She didn't want Vladimir Putin to run the country. She wanted something more like a drunk Boris Yeltsin because he was corrupt and a neoliberal and we could buy him cheap on behalf of our "national interests"
So with that ultimate goal in mind, Hillary and her 7th Floor Group from the State Department, used her super secret private email service to do all sorts of illegal and immoral things in Russia in the hopes they could hire enough opposition party members (and by "opposition party members" I mean "corruptible dip-shits in Russia who would do anything a foreign power wanted so they could achieve some power they couldn't normally get through the democratic process"… you know… the staple of our foreign policy across the world) to stage demonstrations run by our CIA to make it LOOK like there was some kind of neoliberal revolution taking place in their country.
One such program was called "Pussy Riot"
I'm not going to get into who and what "Pussy Riot" was. Needless too say, they were a U.S. State Department-backed psyop who ran around staging fake scenes with video cameras rolling on behalf of Hillary Clinton and our "national interests"
They were ridiculous and their little staged scenes were sophomoric and insipid in design and execution but the complicit U.S. media ran with each and every one of them as if they were somehow not painfully obvious that they were staged for effect.
Now "Pussy Riot" has been gone for a while. They, like so many other U.S. terrorist contractors we have hired in the past (and that included "ISIS" believe it or not) have come home to roost, living the high life right here in the good old U.S. of A. on the tax payer's dime I assure you.
But this past month Putin has celebrated driving our terrorist faction out of Syria and gotten together with China to thwart our aggression in Asia and then he committed the unspeakable sin, the unpardonable sin, he announced he would run for his 4th term in office.
When he made that announcement the people of Russia celebrated. All of them except the neoliberals of course. They had dreams of open markets, deregulation and of course… privatizations that make old oligarchs rich and new oligarchs out of young republicans.
So guess what?
"Inside Pussy Riot is an interactive exhibition about the punk collective's famous incarceration in Russia in 2012. It is splashing various shades of authoritarianism on the white walls of the Saatchi Gallery from November 14 to December 24. The show plunges the audience into a courtroom, a labour camp and a prison, where they will get a sense of the degrading and humiliating treatment of prisoners, as described by former inmates of this penal colony in Russia's Mordovia, including Tolokonnikova. Newsweek 11/24/2017

Pussy Riot Brings Punk Performance Art to Los Angeles for US Live Debut: 'We're Not Here to Entertain' – "When asked backstage later why it has taken Pussy Riot so long to play in America… Tolokonnikova said simply, "I don't know, we just didn't feel like it before."

"We're not here to entertain or something; this is more about our own intuition and so when we feel like it we do it," she continued. "We're coming from a conceptual art background … we made a fake band as part of our art form and some people do believe that we are the band but actually we're just a bunch of artists and activists living mostly in Moscow." Billboard Dec. 13, 2017

"In lieu of Nails' full run, Russian activist outfit Pussy Riot (who also hosted a heavily attended talk on Friday for the fest's "summit" day) easily won top marks for the day by drawing a massive audience during their acrobatically theatrical live set, which cleverly used undeniably infectious entertainment as the honeypot to draw people into a conversation about diffusing derogatory gender stereotypes and deliver a poignant socio-political message: Wielding a sign that read "Good night white pride" and holding middle fingers high, they sang jovially, "Make America great again!" Billboard Dec. 17, 2017
The talent-less hacks that are the manufactured "Pussy Riot" psyop have popped back up with a full brainwashing tour in both London and L.A. right in time to try to destabilize Russia… once again.
And if you think I'm jumping to conclusions because I'm a "conspiracy theorist"… think again:
"Russian police arrested on Wednesday a member of the punk band and activist group Pussy Riot after she unfurled a protest sign near the headquarters of the FSB security service in Moscow.

Maria Alyokhina posted a photo on her Twitter account of her holding a poster saying "Happy Birthday, executioners" on the steps to the main FSB building, on the day the agency celebrated its centenary.

Russia has an official "day of security service workers" on Dec 20, and Wednesday also marks 100 years since the establishment of the Cheka secret police, created to stamp out opposition to the Bolshevik Revolution and headed by the notoriously ruthless Felix Dzerzhinsky." Sun Daily, Dec. 21, 2017
Apparently the brave Pussy Riot walked past the building, when it was closed and no one was there, and they quickly got their photographer in position and then hoped up on the steps, unfurled their stupid little banner and snapped the State Department's Christmas Greeting photo and ran before anyone was the wiser. Now one of them says she was "arrested'
Yep. The "Pussy Riot" reunion tour is exactly the same as their original concept: they were manufactured to destabilize Russia in the first place and now they are back, before a critical election, to try to do the same thing again.
Let me do some promo work for them:
"Come see the insipid, talent-less, preachy neoliberals of the Ayn Rand School of Music – PUSSY RIOT – unleash a powerful dose of Hearts and Minds to you stupid, stupid, stupid children in London, L.A. and Houston before they take their show on the road to Moscow where they will manufacture some more photo-ops on behalf of the show's sponsors: CIA, State Department, U.S. Chamber of Commerce, your friendly privatized Central Banking system and your pals at Big Oil, the MIC and greedy desperate billionaires everywhere!"
"Who Says PUNK ROCK is COUNTER-ESTABLISHMENT?!? Well that's just OLDTHINK!!!"
Yep. "Pussy Riot" is back and the great Donald of Trumpland isn't doing jack-shit about it. That's because he's been cucked. Or, in the lingo of yesteryear for oldies like myself… because he's a pussy.
Ironic that, huh?
These days there are a number of things that embarrass me as an American everyman kind of guy. The White Helmets meeting with senators and getting Oscars is one of them. The ZioTrump saying Palestine is now the capital of Israel is another. I mean, there are the usual suspects like Jake Tapper, Fox News, the New York Times and congress that make me want to put a bag over my head for the rest of my life. That's true. There are so many things that it's hard to keep up with them these days.
But I have a special kind of shame for our creation of Pussy Riot for they are like the Beenie Babies or Pet Rock of our "smart power" foreign policy programs, you know? They just kind of sit there glaring at you, daring you to see just how fucking stupid and pointless they really are while demanding money for doing absolutely nothing. In every other country in the world, vapid and pointless are words that fail to grasp the depth of the intelligence void that surrounds these… people. They are literally a black hole of ignorance sucking the IQ out of this country at a rate about 100 times faster than the WWE… or politics for that matter.
If I could afford it I would have a paper bag surgically fixed upon my head for life… but alas, ObamaCare came along and I have no insurance. Well, I have insurance I pay through the nose for… just can't afford to use it… I guess I'm ashamed of ObamaCare as well… now that I think about it.
Great. Something else. So glad Trump made America great again.
Oh yeah… this guys is our president. I forgot about that for a second…
Yeah… there's that as well…
Pussy Riot has dusted off their genitalia and returned from Slick Willie's cabin closet/GIMP-DEN to revise their old regime change operation in Moscow once again. Jesus Christ.
At least you can't say it'll be a boring three more years, can you?
—
Help support the website if you can
Independent journalism depends on viewer support.
You can click on the nifty gif thingy for PayPal or contact me via email (rscdesigns@tampabay.rr.com) for my home address.
Thank you very much.
Filed under: Neoliberalizing Russia, Pussy Riot, Scott Creighton |