by Scott Creighton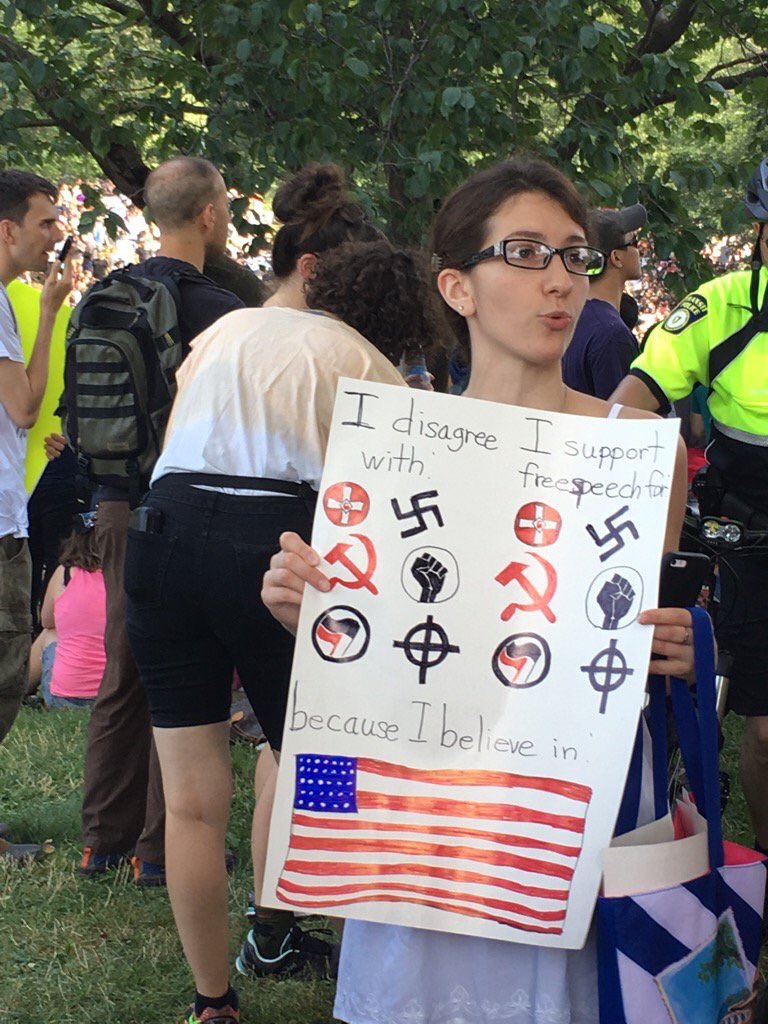 As a member of the real anti-fascist left (not the paid provocateur type) it's been kinda hard for me over the past week or so. Even before that really  because folks on the left think I'm going all… alt right or something for simply pointing out that there really is a war going on in the heavens and some faction of the masters of the universe want more war and regime change from Trump's administration than they are getting. But this past week and my coverage of the event in Charlottesville and the subsequent shutting down of free speech and the corporate/fascist media's attempt at justification of political violence from one side and not the other has left a bad taste in some readers' mouths I suppose.
Anyone got proof of Soros paying antifa? So antifa = DNC = MoveOn? Congrats on your new alt-right fan base. Good bye.
I am not "alt-right".
I am not "alt-left".
I am left. The REAL left.The REAL anti-fascist left that hates the neoliberal Clintons and their centrists that have taken over the unDemocratic Party.
The REAL left that beat corporatist/fascist Hillary Clinton and her neoliberal establishment ilk in the Democratic Party primary in 2016. That's because the REAL left, the REAL anti-fascist left, outnumbers the centrist fascist neoliberal left. WE are the left and THEY are the alt.
The REAL left has been fighting centrist, neoliberal, fascist globalization for decades. And we don't intend to stop. Ever.
Did you notice something about this past week? Something about the nature of the event that took place in Charlottesville last weekend?
Let me break it down for you.
Kessler (formerly a backer of Obama and therefore the centrist, neoliberal, fascists of the FAKE left) calls for all kinds of angry Americans to show up at his 'Unite the Right" demonstration in Charlottesville.
Few who aren't on one payroll or another show up (yes, Vanguard America is a honeypot run by sheepdipped former military destabilization assets)
But the point is that some folks in this country are angry because they feel they aren't relevant anymore. And you can hardly blame them. Black Lives Matter. Transgender Lives Matter. Immigrant Lives Matter. Women's Lives Matter. Gay Lives Matter. Everyone's lives matter… but for one specific demographic. And folks, shit aint handed to every white, straight male in the country because he's a white, straight male. The economy sucks for everyone and that's a goddamned fact.
Be that as it may, few still turned up at the rally. And fewer still who weren't on the payroll joined in those who were when they started chanting racist, Nazi slogans while marching around with Ukraine's spare tiki-torches.
But who gets demonized? Trump voters. Folks who are opposed to the ESTABLISHMENT REPUBLICANS. The ESTABLISHMENT, CENTRIST, NEOLIBERAL, FASCIST REPUBLICANS.
And, by the way, as we saw last November and during the Republican primary, THOSE REPUBLICANS seem to outnumber the establishment, centrist, neoliberal, fascist Republicans.
Alright, stick with me for a second.
Now, let's look at the left. The counter protesters.
David Swanson (professional activist that he is) ran around and got a bunch of well meaning lefties to show up at the event as well.
But who else showed up?
Antifa, the group that is now being absolved of their abhorant behavior by much of the establishment, centrist, neoliberal fascist main stream media. And what do they do? They attack anyone they can. They scream offensive slogans filled with hate. They attack and insult the police.
They do for the REAL anti fascist left what Kessler, Vanguard America and the rest of the psyops performers do to the anti-establishment right… right?
BOTH sides are diminished simultaneously… not just in the eyes of the opposition… but in the eyes of everyone.
Who causes the centrists, the One Party Fascist Party, the most problems in America these days? Who caused them problems with the election cycle last year?
The anti-establishment RIGHT
And the anti-establishment LEFT
And now… BOTH groups are demonized as a result of the events of last week while neither had anything to do with any of it.
There are people on the right with every reason to be upset about the way the country is going. And the same holds true for the real anti-fascist left, does it not?
Not only does Soros get to sow discord and unrest in the country with the help of his little NGO assets (on both sides of the fake conflict) and the corporatist media, but then he also gets to start a narrative that BOTH SIDES are dangerous to our "democracy"
In the end the media will turn on Antifa and stop making excuses for them. At that point it will be considered out of fashion to be anti-fascist and wont that be an interesting development.
It doesn't take a PhD too see where this is going. Not necessarily a civil war (unless you think what happened in Ukraine or Syria or Libya was a "civil war") but certainly increased violent clashes and destabilization to the point where EVERYTHING OTHER THAN CENTRISTS WILL BE CONSIDERED "DANGEROUS"
When you can only see the world in Red or Blue, you're missing an awful lot of the full spectrum dominance programs taking place out there. You're missing half the show.
That's why I cover what I cover and investigate what I investigate. It may seem like one day I attack Trump's neoliberal agenda and the next I defend his administration from the endless attack of the centrists running the show and that's because I do. I doesn't mean I'm bi-polar or confused. It means nothing is black and white anymore. Not even black vs white.
Years ago I was kicked off a website I helped found and set up because prior to the presidential election of 2008 I was writing here and over there that President Obama was not a progressive Godking and he wasn't even progressive in fact. But the fad of the day won out and I was gone.
Today, those folks understand and have figured it out since I am sure. Barack Obama was a left-cover neoliberal in progressive clothing. And I was right all along.
Someone back then asked me if I would rather be right or have friends.
I couldn't understand being made to choose but when I did, I went with my own moral compass. Just like I did when I didn't vote Clinton in 2016 (or Trump for that matter)
I am a real anti-fascist from the left. If you don't understand where I am today… that's ok. You will one day.
When neoliberal fascism infects a nation either by corrupt politician imposing it (Greece for instance) or by Shock and Awe (Iraq) or by Humanitarian Intervention (Libya) or by U.S. backed coups (al Sisi's Egypt) there is ALWAYS a certain reaction that takes place: the rise of the anti-fascist left.
And that's because once libertarian-minded youngsters get a real taste of what their Ayn Randian world really feels like, they tend to wise up pretty quickly.
Look across the history of nations that have expelled the fascist dictators we have installed across the globe. What brought them down wasn't free-market ideology or small gubmint proponents (like Bill Clinton for instance)
What brings them down are people rallying together around traditionally leftist ideologies like unions, Social Security, housing rights, workers rights… things like that. Things that diametrically opposed to fascist ideologies.
In short, the REAL anti-fascist left.
So you might not understand where I am today and why I do what I do. But there is method to my madness.
I'm a REAL Anti-fascist from the left and you will be as well, one day.
Filed under: Scott Creighton |