by Scott Creighton
UPDATE: At the end of this article, I have now included photos of the police presence at the KKK rally in Charlotteville held in July of 2017… just a few months ago.
—
The violence that occurred this past weekend in Charlottesville at the "Unite the Right" rally could have been avoided. It easily could have been avoided. And in order to prove that, I offer 2 other "racist" rallies that took place… in Charlottesville.. over the past 3 months. That's right, this weekend's event was one of three that took place in the exact same location over the course of the last 4 months.
On May 13, 2017, white supremacist Richard Spencer led the Take Back Lee Park rally, a protest in Charlottesville against the city's plans to remove the statue of Lee. The event involved protesters holding torches near the statue. That same night, a candlelight counterprotest took place.[12]

The Ku Klux Klan held another rally in Charlottesville on July 8.[13] About 50 Klan members and 1,000 counterprotesters gathered at a loud but nonviolent rally; the Klan members left the park after about 45 minutes.[14] In opposition to the rally, the Charlottesville Clergy Collective created a safe space at First United Methodist Church, which was used by over 600 people.[13]
There had been no reported violence at either of the two previous events. Turnout was low. Agent provocateurs chanted "Russia is our friend" and everything turned out just fine. People gave speeches, counter protests took place in another location and in the end, free speech won the day.
The mayor of Charlottesville, Mike Signer (who is Jewish by the way), called the protesters "profoundly ignorant" in a statement after the May 13 demonstration. That caused a bit of a ruckus online but all was forgotten in time.
And then we had the third rally this weekend and all of a sudden it seems law enforcement forgot how to do their jobs on multiple occasions. Why is that? Police Chief Al Thomas says some things about this weekend are "less clear" than others.
I tend to disagree. The more they talk, the more we research, the clearer it becomes.
"The police chief of Charlottesville, Va., denied Monday that cops were ordered not to intervene or make arrests during the violent clashes that led to the death of an anti-racist protester.

Chief Al Thomas said it was "simply not true" that cops had been told to stand down Saturday. He then abruptly ended a televised news conference...

Asked who was to blame for violence, Thomas said: "This was an alt-right rally. We did have mutually combative individuals in the crowd." New York Post Aug. 14
Charlottesville police chief Al Thomas said the reason the officers didn't interfere when the violence started breaking out was because his officers had to change clothes. But not to worry, his forces were close to the riots.
"When rally attendees started coming in from all sides Saturday morning, the chief said, his officers had to alter their plans and transition into protective gear from the street uniforms they were wearing… Thomas said his force was never too far from the melee and had a "very large footprint," intervening in street fights and evacuating the park." Washington Post Aug 14

"Thomas said uniformed cops had to change into "protective gear"' before clearing out the park…" New York Post Aug. 14
So, according to the police chief in Charlottesville, officers needed to change their wardrobe before they could get involved in the melee. Unfortunately for Al Thomas, that's not exactly what the witnesses reported.
"There was nothing haphazard about the violence that erupted today in this bucolic town in Virginia's heartland. At about 10 a.m. today, at one of countless such confrontations, an angry mob of white supremacists formed a battle line across from a group of counter-protesters, many of them older and gray-haired, who had gathered near a church parking lot. On command from their leader, the young men charged and pummeled their ideological foes with abandon. One woman was hurled to the pavement, and the blood from her bruised head was instantly visible.

Standing nearby, an assortment of Virginia State Police troopers and Charlottesville police wearing protective gear watched silently from behind an array of metal barricades — and did nothing.

It was a scene that played out over and over in Charlottesville as law enforcement confronted the largest public gathering of white supremacists in decades. We walked the streets beginning in the early morning hours and repeatedly witnessed instances in which authorities took a largely laissez faire approach, allowing white supremacists and counter-protesters to physically battle." ProPublica
The ACLU confirms ProPublica's observation and the fact that officers were waiting for orders to intervene.
The excuses offered by Al Thomas don't hold up under the slightest scrutiny especially when you consider they had already had 2 such rallies, in the exact same location, over the course of the past couple of months.
Something this weekend was profoundly different in terms of how they managed the event.
In the two previous rallies, counter protests did take place, but they were held in specific locations AWAY from the park where the statue protests took place. Also, the police presence was much more visible. They weren't just nearby and they definitely weren't someplace else changing clothes.
This time, I don't believe the counter protesters had any kind of permit which would limit them to a specific location which means they were bound to end up at the statue at the same time as the Unite the Right rally.
So that brings up an interesting question and one that we (I) have been asking from the very beginning and that is "was the violence what leaders in Charlottesville wanted all along?"
As I have already pointed out, Brennan Gilmore, a former high-ranking State Department official, just happened to be at the right place at the right time to capture on his cell phone a video of the Dodge Challenger driving down the road and hitting a group of counter-protesters on Saturday afternoon. In that earlier article, I describe Gilmore's career at the State Department and how he worked in support of one of our ruthless neoliberal dictators in Central African Republic until a revolution overthrew him and Gilmore had to flee. During that time, Gilmore was the Special Assistant for Lord's Resistance Army (LRA) Issues in the Bureau of African Affairs, and worked with Special Forces as they tried to crush the growing insurgency. They used the STOP KONY 2012 psyop as cover for Obama's use of military force to impose another colonization project on another African nation.
I also wrote about his close ties to Tom Perriello who himself was involved in a number of regime-change mop-up operations over the past couple of decades. And recently, Periello worked closely with USAID which we all know is nothing more than a front for the CIA.
In July 2015, President Obama appointed Tom Perriello to succeed former US Senator Russell Feingold as Special Envoy to the Great Lakes Region and the Democratic Republic of Congo. As Special Envoy, Perriello was the US representative to a region including Democratic Republic of Congo, Burundi, and Rwanda, countries working to overcome a recent legacy of civil war and genocide…

Tom Perriello was selected by Secretary of State John Kerry to lead the 2015 Quadrennial Diplomacy & Development Review, a strategic planning process intended to be conducted every four years for the U.S. Department of State and the U.S. Agency for International Development (USAID)…
Gilmore was Tom's campaign manager this year when Periello ran for governor of Virginia. You can go here to see Brennan Gilmore's White House log visits from 2015 to 2016.
Knowing that the order to stand down had to come from on high, I decided to take a peek at Mayor Mike Singer. See if there were any connections to the kinds of folks who would take pleasure in seeing President Trump's tenure weakened by some violence this weekend. And guess what I found?
"(Obama's transition team) is chaired by John Podesta, Bill Clinton's former White House chief of staff who runs the Centre for American Progress, a think tank long seen as a Democratic administration in exile. Mr Podesta is working closely with Michael Signer, a former foreign policy aide to John Edwards in charge of homeland security affairs" New York Times Oct. 2008

He was later senior strategist on the 2008 Congressional campaign of Tom Perriello. Signer was senior policy advisor at the Center for American Progress and later that year worked with John Podesta on President-Elect Barack Obama's State Department Transition Team
Singer is linked over the course of his career with the centrist neoliberal fake Dems and all the same folks that Gilmore was linked to. Not only that… but watch this…
This Saturday is the ninth anniversary of 9/11. Normally, I'd try to commemorate that horrible, epochal day as best as I can here at home. But this Saturday, I'll instead be stepping off a plane in Dubai along with several dozen other Americans, on the way to Kabul for a USAID-sponsored mission to monitor elections for the Wolesi Jirga, Afghanistan's lower house of Parliament. Friends and family, equally freaked out by the prospect of me, a lawyer, heading into a war zone, keep asking me how I feel about this mission. Mike Singer 2010
Yep. Charlottesville mayor Mike Singer decided to travel with the CIA's USAID to Afghanistan to "help" them "vote the right way" in 2010.
So, witness Brennan Gilmore has ties to the shop. His former boss Perriello has ties to the shop. And so does Charlottesville's mayor, who man who ultimately gives orders to the Chief of Police who can't explain why his officers allowed all that violence to take place this past weekend when nothing like it happened the last two times these groups were in town protesting at the same statue.
Not only do they have ties to the CIA, but every single one of them is close to the Obama/Clinton/Podesta neoliberal dynasty. In fact, as you can see, Singer was an advisor at the Podesta-run CAP which is the neoliberal centrist Dems' think tank.
Moving up the chain of command, Virginia governor Terry McAuliffe has been a long time Clinton donor. He even financed Bill and Hillary's 1.5 million dollar home after Bill left office. He also openly credits all of his business success to his involvement in politics.
McAuliffe had a prolific fundraising career within the Democratic Party, and a personal and political relationship with Bill and Hillary Clinton.[13] McAuliffe and his staff raised $275 million, then an unprecedented sum, for Clinton's causes while president. After Bill Clinton's tenure ended, McAuliffe guaranteed the Clintons' $1.35 million mortgage for their home in Chappaqua, New York. The deal raised ethical questions.[27][28] In 2000, McAuliffe chaired a fundraiser with the Clintons; setting a fundraising record of $26.3 million.[29]

McAuliffe told The New York Times in 1999, "I've met all of my business contacts through politics. It's all interrelated." When he meets a new business contact, he continued, "then I raise money from them."[13] He acknowledged that success of his business dealings stemmed partly from his relationship with Bill Clinton, saying, "No question, that's a piece of it."…

McAuliffe was co-chairman of Hillary Clinton's 2008 presidential campaign,[39] …
Though McAuliffe wouldn't necessarily have to approve a plan by various high-level politicians in Charlottesville, the truth is, he would have probably needed to tacitly approve of the plan prior to the event due to the fact that as Governor, he could order a state-level investigation of what led-up to the violence this weekend if he wanted to. Such an investigation could easily lead to several folks, even elected ones, losing their jobs.
It's pretty fair too say several of the "alt-right" leaders who planned this event agent provocateurs or Sheep Dipped assets running honeypot "white nationalist" operations. You can see from the make-up of the phony "Nazis" in the groups and their continued use of various propaganda that serves only to tie people and movements OPPOSED by the Deep State to "Nazis" and racist ideology, you can see how on the ground level, this event has psyop planners' fingerprints all over it.
It's also fair too say the complicit media's near universal take on the event signals a uniform, ready-made reaction more than likely dictated to them from a single source. Trump is attacked. The ACLU is attacked. Peace activists opposed to the CIA's regime change operation in Syria are attacked. Tucker Carlson is attacked. Everyone attacked that the CIA and various other aspects of the Deep State want attacked as if the MSM were all sent the same talking points memo.
And keep in mind, this all comes right after the news was starting to pick up on the story that the Deep State's bullshit narrative about a "Russian hack" was falling apart. Also keep in mind it comes at a time when 600,000 Syrians returned home after the CIA's terrorist regime change operation fell apart.
These things don't happen in a vacuum folks.
In the world of politics, there are no coincidences.
Two previous rallies in the same town in the same location with the same "Nazis" went off without a hitch.
This weekend cops needed a wardrobe change while clubs and fists were flying on Friday night and Saturday morning. Cops stood by and watched on Sunday while protesters attacked a guy making a statement at a microphone. And on Saturday, cops walked by and did nothing as the Dodge Challenger, all fucked up from the attack, made it's slow speed getaway down the busy streets of Charlottesville.
And then we have this:
The police chief said the department's "action plan" called for the street crossing where Heyer was killed to be closed but it was less clear why it may have been open at the time Fields is accused of driving into the crowd at a high speed after a collision with another vehicle. Washington Post
Yep. The street those protesters were on SHOULD  have been closed to traffic. But it wasn't. And police chief Thomas simply doesn't know "why"… it's 'less clear' to him.
Judging from all of this, I would say it's perfectly clear that indeed there was a police stand-down this time around and, by the same token, I think it's perfectly clear who gave the order and why.
—
UPDATE: This is what police presence looked like in July at the same location during a KKK rally. There were reportedly only 50 klansman attending the rally. Hundreds showed up from the other side and they were very aggressive. As you can see from the photos below, Charlottesville PD focused on the counter-protesters… not the klansman idiots. By the way, I have yet to see a photo showing 50 KKK members. More like 20 in my best guess.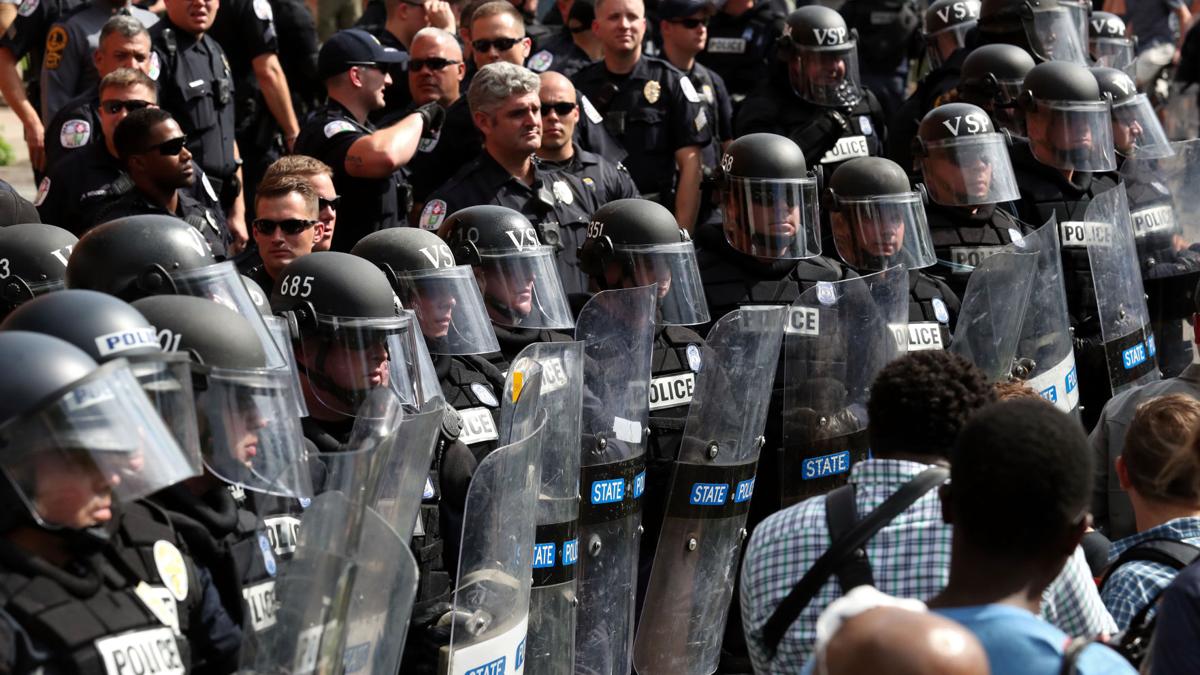 Here is a scene from that day when the protesters face off with police and they are chanting "cops and klan go hand in hand"
The police, knowing full well how the counter-protesters had behaved in the recent past, decided to pull out and see what happened this time. The family of that girl who died should sue them and the city of Charlottesville.
Filed under: American Gladio, Charlottesville attack, Neoliberalizing America, Scott Creighton |