by Scott Creighton
(just a quick note)
According to Sputnik and Orient News, late last month (May) the Kurds of the SDF cut a deal with "ISIS" to allow them to leave Raqqa and head south to engage the SAA directly.
"A source in the Russian Ministry of Defense said on Saturday (May 27) that Kurdish commanders in the PKK-affiliated Syria Democratic Forces (SDF) have reached an agreement under which ISIS terrorists could be allowed safe passage to leave Raqqa heading to Homs southern countryside. The Russian news agency Sputnik quoted the source as saying that Moscow will not allow this agreement to be implemented and that Russian warplanes and special forces on the ground will prevent the exit of ISIS terrorists from Raqqa southward. Last Thursday (May 25), the SDF promised that ISIS terrorists in Raqqa would not be harmed if they surrender by the end of the current month. SDF called on ISIS elements to surrender their weapons before its expected offensive on the city. In a statement published on its website, the Kurdish militia said that because of the "positive results" of a previous statement issued on 15/5/2017, regarding the protection of the lives of those who turn themselves and their weapons in, the period will be extended to 31/5/2017″ Orient News, May 27th, 2017
Yesterday's U.S. coalition attack on a Syrian fighter jet as it attacked "ISIS" fighters leaving Raqqa happened south of Raqqa near Ja Din on route 6.
If you zoom out a little on the area map, you'll understand the significance of that location.
Looks to me that "ISIS" after being allowed to leave, was heading right down route 6 straight to Homs.
Also, for the official reports, seems like they might have had some air support along the way.
"U.S. Central Command issued a statement saying the plane was downed "in collective self-defense of Coalition-partnered forces," identified as fighters of the Syrian Democratic Forces near Tabqah, according to Reuters. "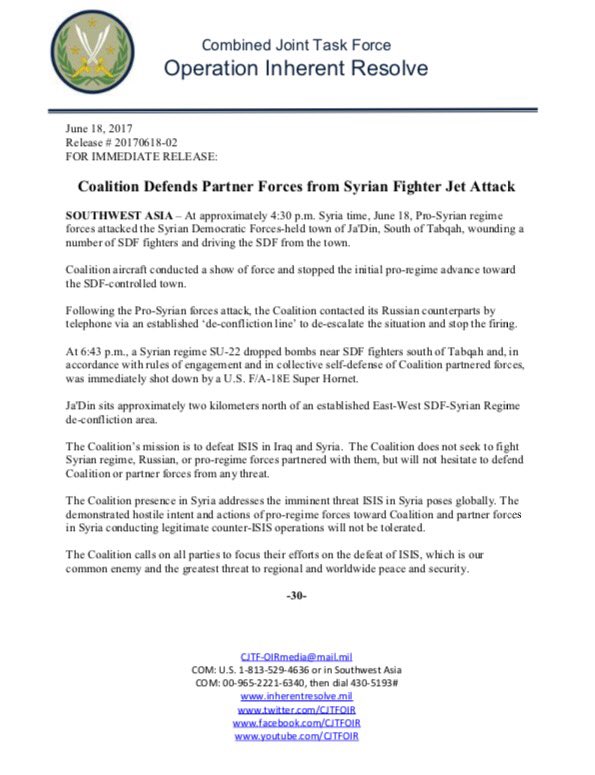 The official statement says the U.S. tried to stop the Syrian attack via a show of force but that didn't work. It also states munitions were dropped "near" Kurdish forces, not on them. A big difference.
Despite their claims, the U.S. has not been targeting "ISIS" in the region. They never once attacked "ISIS" fuel truck convoys fleeing Syria with stolen oil headed down to Iraqi Kurdistan.
Filed under: Uncategorized |