Posted on
June 6, 2017
by willyloman
Posted on
June 6, 2017
by willyloman
by Scott Creighton
UPDATE: All of the following detail situations involving the DEMOCRATIC PRIMARY… NOT the general election of 2016. And ALL of them involve Sanders supporters being purged from voter rolls… not Clinton.
—
(For a good assessment of how trustworthy The Intercept is regarding their handling of this "leak", go over to Moon of Alabama blog. The way they claim the leaker, Reality Winner, was exposed is remarkably contrived. Either that or they are idiots over at The Intercept.)
Three days before James Comey is set to testify before congress and in all likelihood dispel a good deal of the bogus "Russia Owns Donald Trump" story, four writers at The Intercept decided to publish a new 5-page "leak" from something called "Reality Leigh Winner" which purports to show Russia not only interfered with the election, but "hacked" it as well, "stealing" the election from Queen Hillary.
Or at least, that's how the corporate media destabilization campaign is presenting the story.
"Somebody who leaks documents against laws has got to suffer the consequences" (Tim) Kaine said. "But the American public is also entitled to know the degree to which Russia invaded the election to take the election away from American voters."

Kaine noted he knew of no evidence that showed Russia affected machine voting totals and said he was referring to intelligence assessments that Russia had acted to influence the election." CNN
The "leaked" document itself is devoid of any hard evidence. There are no files, no documents, no hard evidence of any kind to support the claims made in the document and by those looking to promote the "Hillary didn't really lose" subplot to the 2016 election. It comes from Reality Leigh Winner, a contractor with Pluribus International Corporation in Georgia who now stands accused of "removing classified material from a government facility and mailing it to a news outlet,"
The "leak" is an assessment complete with Power Point slides, created by someone in the NSA… supposedly. Though the first source The Intercept approached for verification of the document concluded it was fake, reportedly they found some other "government official" who says it's real. That, at least, according to The Intercept and other such Trump-bashing outlets like CNN for example.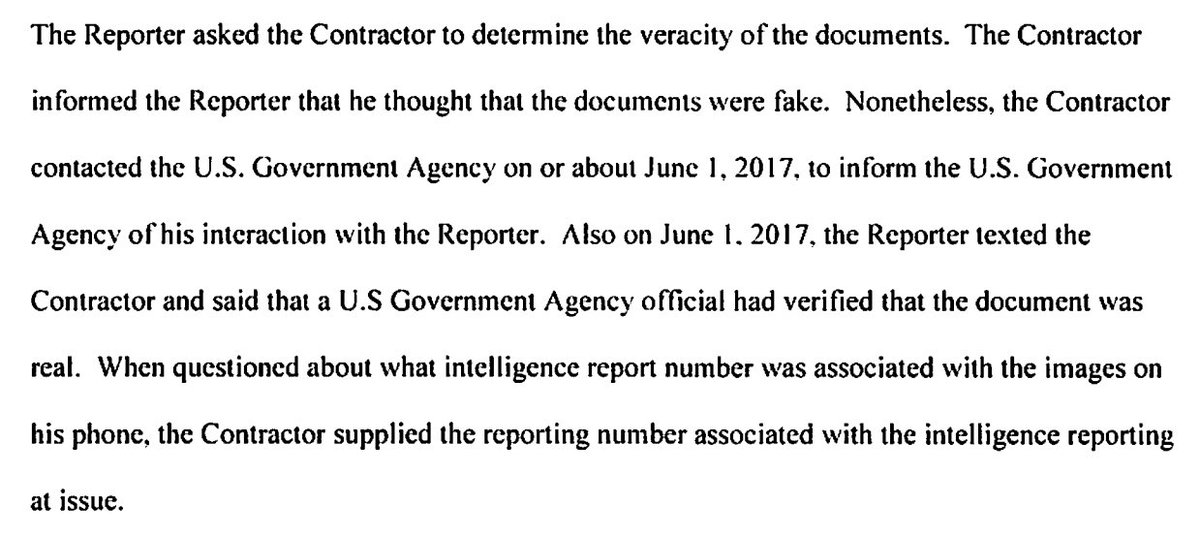 Clearly, The Intercept went out of their way to "accidentally" expose the leaker.
Though the document itself concludes "It is unknown whether the aforementioned spear-phishing deployment successfully compromised the intended victims, and what potential data could have been accessed by the cyber actor," that has not stopped folks like Tim Kaine from leaping to vastly different conclusions about Russia "invading" our precious elections.
The relative truth of the claims made in this assessment and those of the regime change activists working within the US right now is evident in the first foundational slide from the leak published by The Intercept. Remarkably (or maybe not since it's owned by globalist Pierre Omidyar who set up The Intercept to profit from the other fake leaks from "Edward Snowden") none of the four intrepid "reporters" working on this article seems to have noticed the one glaring weakness which the slide exposes:
IF the rest of the report's conclusions (which as you see, are inconclusive at best) are accurate, if someone did attempt to gain information and access to various privately maintained voter registration systems (which we CLEARLY shouldn't be using in the first place) the ENTIRE CONNECTION to Russia is a "judgement" or "probable"
I mean it says so RIGHT THERE ON THE DAMN OFFICIAL "LEAK"
Filed under: "Decision" 2016!, Bernie Sanders, DNC leak scandal, Donald Trump, Election 2016, Electronic Voting Scams, Reality Winner, Scott Creighton | 10 Comments »