by Scott Creighton
UPDATE: The Duke of Orange is now going to keep the White House visitor log a secret so his fan base wont find out he's getting visits from Killary and Big Business/Goldman Sachs types. That's called "draining the swamp" and filling it with sewage.
—
"Oh I wont. I wont backslide boss. I wont. I wont backsass. I got my mind right. I got my mind right boss" President Trump to the Deep State
When the Duke of Orange gets his mind right, he gets his mind far-right, even neocon right. He get's his mind so far right he attacks the institution that published Hillary's and Podesta's incriminating emails which helped the new president get elected in the first place.
The Trump transition to full-blown neocon globalist has been a quick one. about 11 days if anyone is counting. It's been quick and it's been extremely positive for the establishment One Party system we have here in the states: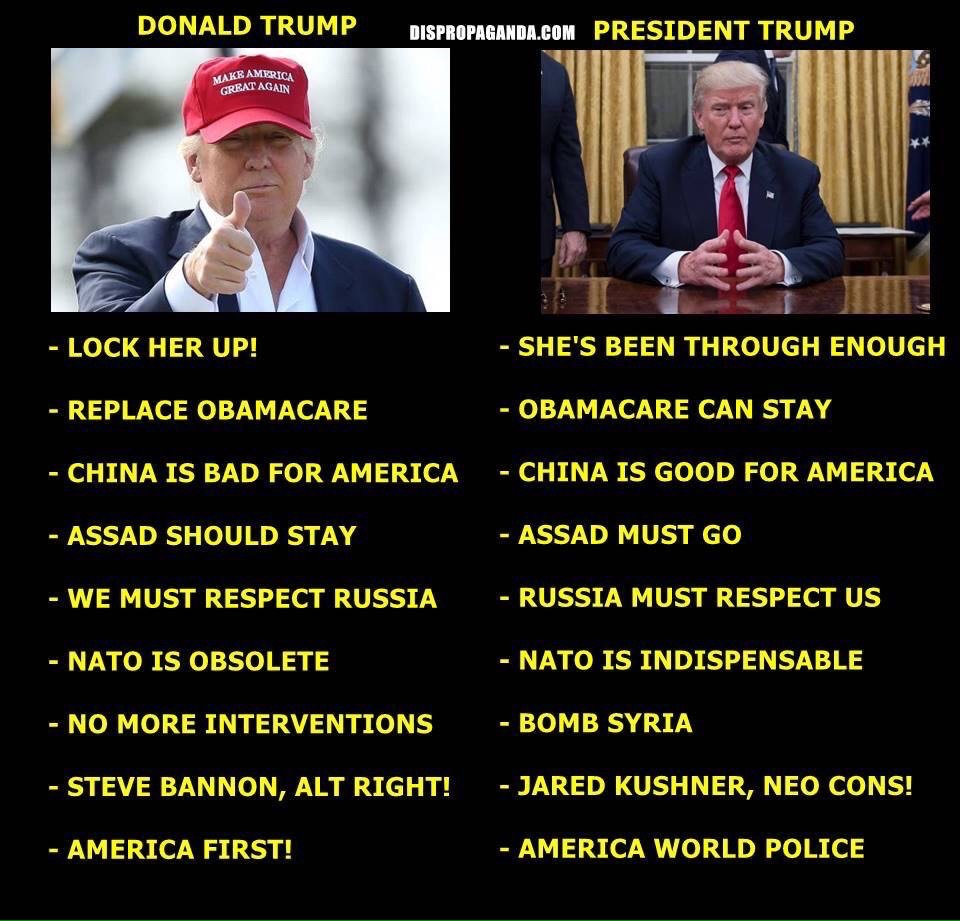 We can now add to that list put together by dispropaganda.com Trump's CIA director Mike Pompeo attacking Wikileaks calling them a "hostile intelligence service" and saying they are a danger to our "national security" and that they are aided by Russia.
Sorry? Yeah, that's the Hillary Clinton/John Podesta/John Brennan/GCHQ/14 Eyes version of the story, isn't it?
"One day after the President reversed his core stance on a broad range of policies including the US Dollar, interest rates, the futures of Janet Yellen, the Ex-Im bank, the obsolescence of NATO and whether China is a currency manipulator, on Thursday afternoon he took aim at Wikileaks and Julian Assance, when CIA Director, Mike Pompeo, in his first public appearance since taking the top intel post in the Trump administration, called the whistleblower organization a "non-state hostile intelligence service" abetted by state actors like Russia.


"It's time to call out WikiLeaks for what it really is: A non-state hostile intelligence service often abetted by state actors like Russia" Pompeo said.

"WikiLeaks walks like a hostile intelligence service and talks like a hostile intelligence service," Pompeo told an audience at a Washington think tank, adding that Russia's GRU intelligence service had used the anti-secrecy group to distribute hacked material during the 2016 U.S. presidential election" Zero Hedge
As pointed out by Zero Hedge, this is a huge change in position not only for Trump but also Pompeo:
"Which is ironic for Pompeo to say when just last July, Pompeo was quite keen on using the information disclosed by this "fraud and coward" for his own political purposes, when he was sharing Wikileaks documents on his Congressional Twitter account less than a year ago" Zero Hedge
In October of 2016 the New York Times wrote about how Trump found an ally in Wikileaks.  Almost every day since the election, the angry establishment tried to find a new and more damning connection between someone, anyone Trump ever knew and someone else who once lived, worked, flew over, knew somebody from… Russia. The whole thing has been about discrediting the legitimacy of the Trump victory in November by saying Russia hacked the election so Hillary would lose.
And now it seems Trump's own CIA pick is at least tacitly supporting that bullshit narrative.
President Trump has done a complete 180 deg turn in the past 11 days on certain issues that were key to his base.Some say he always intended to make these changes. That all presidents ALWAYS do as they are told. I don't know. I don't read minds. But I can tell you with confidence that presidents do not ALWAYS do as they are told and yes, in some respects, they can and do shape policy.
I am not a fan of Trump nor was I of his candidacy.
Fascinating isn't it? From a hastily cobbled together false flag in Syria and a ridiculous story about some moron stealing guns so he can hide in the woods doing nothing but play with himself for ten days… to this.
A while ago, after Trump talked about the intelligence agencies spying on his campaign through GCHQ (a statement that turned out to be 100% true), some congressman went on a mainstream media outlet and said something to the effect of "you have to be careful because if you threaten our intelligence services, they will make you pay"
Yep. He was right. And Trump, not coming from the world of politics, had to learn the lesson the hard way. Had to learn to get his mind right. And that is exactly what he did.
Filed under: Uncategorized |