by Scott Creighton
UPDATE: I guess I was a little late: according to David Shuster, they are considering replacing Hillary Clinton as the nominee.
It would appear that the Dems have rigged the nomination process once again now stating that if she backs out, then THEY get to have a little vote in their back offices and decide who becomes the nominee instead of it going to Bernie (who actually won the nomination in the first place before they stole it from him)
"Should Mrs Clinton drop out of the race, the DNC would hold a special meeting to vote for a successor. Party rules indicate that a new nominee would be elected by a simple majority vote." Express UK
The Express article says that Bernie Sanders, Tim Kaine and Joe Biden are the potential candidates to replace Hillary Clinton on the ticket. The only one of that group who had a single vote cast for them during the primary process is Bernie Sanders but according to the article, he's largely considered the last person in line for the task.
—
Last week Chris Cillizza of the Washington Post wrote an article titled "Can We Just Stop Talking About Hillary Clinton's Health Now?" which I took him to task for on Sept. the 7th. I wrote that the totality of evidence proved that something was seriously wrong with Hillary Clinton's health and used my own personal experience with similar medical issues to do so.
The vast majority of the MSM attacked anyone who wondered about Hillary Clinton's health issues claiming were were all "conspiracy theorists" for simply acknowledging what appeared to be serious respiratory issues she was having recently.
Yesterday, Hillary had to leave a ceremony commemorating the events of 9/11 in New York a little early due to what the Clinton camp called an "overheating" episode. The temperature in New York was only 79 degs. She was helped to a waiting vehicle by an aid while holding here chest.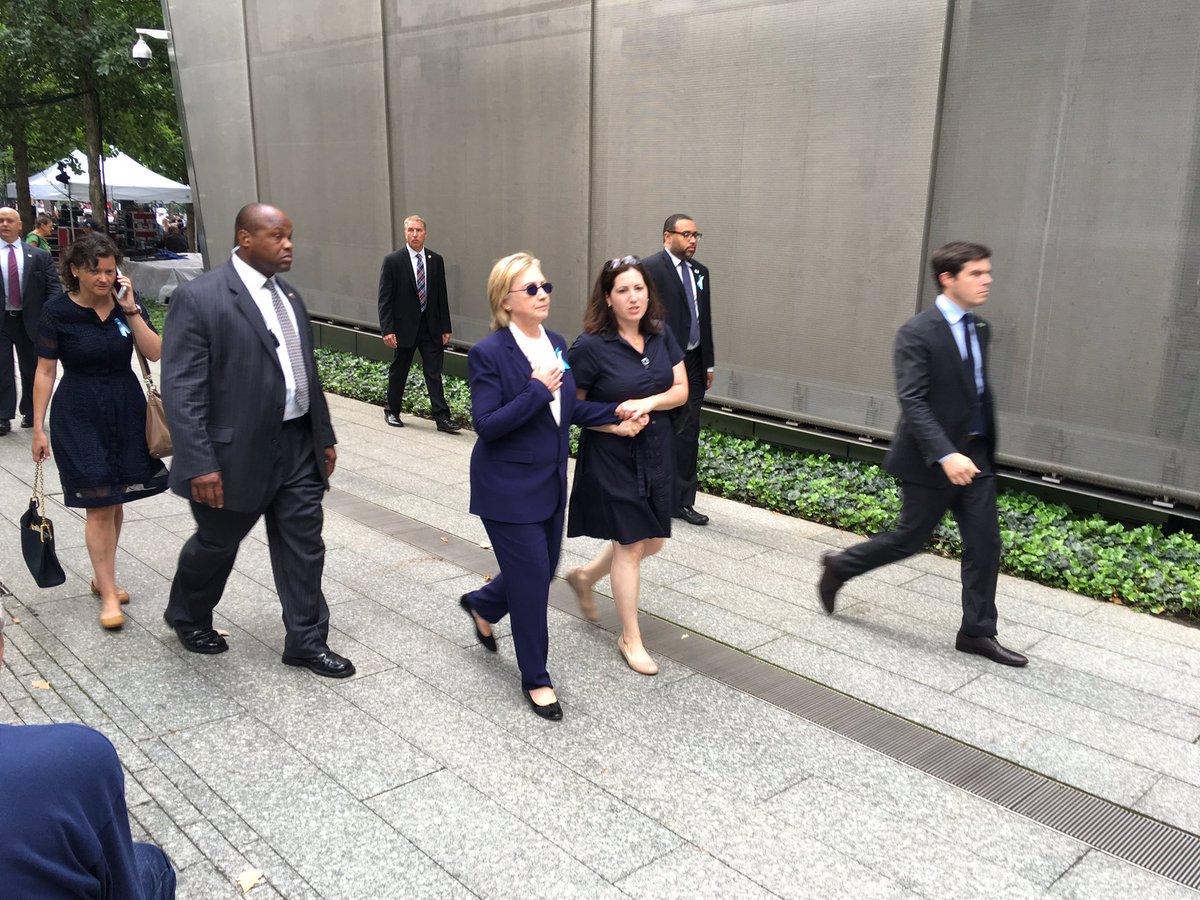 Then, as she was waiting to get into the van, she was clearly being held up by the same aid while leaning on a concrete barricade. When the vehicle door opened for her, she stumbled toward the door and seems to have collapsed before getting in. Her staff kept her from hitting the ground.
Turns out, her doctors now say Hillary had been diagnosed with pneumonia and "was put on antibiotics" on this past Friday.
"Clinton, 68, was diagnosed on Friday with pneumonia, and "was put on antibiotics, and advised to rest and modify her schedule," Dr. Lisa Bardack said in a statement. " CNN
So let's recap. In the course of a week or so, Hillary Clinton has gone from being "perfectly healthy" to suffering from "allergies" to "pneumonia" and what's even more interesting is the fact that if Hillary hadn't been videoed stumbling while getting into a van yesterday, she and her staff would have continued to lie about her medical condition. Her public fall on Sunday is the only reason they told anyone about her diagnoses of "pneumonia" on Friday.
Curiously enough, it was Friday night "at a New York fundraiser Friday night with liberal donors and Barbra Streisand" when Hillary unleashed her "basket of deplorables" tirade on "half" of Trump supporters, calling them everything from racists to Islamaphobes to wife beaters. Considering that she had supposedly just been diagnosed with a very serious medical condition, why was she even there?
If you watch the video of her making that statement on Friday night, you can clearly see she's not well even then. She's licking her lips, her voice is cracking. She's ill. And she also seems a bit off. Was she drunk? You decide.
Pneumonia can turn into walking pneumonia very easily and that is very dangerous for people Hillary's age. My neighbor, roughly the same age, just spent a week in the hospital due to that illness.
If Hillary is suffering from pneumonia, why are her people allowing her to run around attending fund raisers and 9/11 events as if nothing is wrong? Why didn't they simply suspend her activities for a couple days back then, like they have done now?
Seems to me they chose that illness because it fits the recent cough spells and her stumbling yesterday but the truth is, her congestion goes back to November of 2015 and I seriously doubt she's had pneumonia since then.
However you look at it, something is seriously wrong with Hillary Clinton's health and it seems to be getting worse fast.
Filed under: "Decision" 2016!, #EmailGate, campaign 2016, CTHULHU 2016!, Election 2016, Electronic Voting Scams, Globalist Clinton Scum, Globalist Skank Watch, Hillary's illness, Scott Creighton |