by Scott Creighton
UPDATE: As I wrote, the October surprise of Donald Trump's tax returns is taking shape:
Julian Assange: Wikileaks 'Working On' Hacking Donald Trump's Tax Returns
I wondered why Wikileaks, a known CIA honeypot asset, would release those unDNC emails right before the convention. They did that because they needed to appear neutral when they released The Donald's tax info. The unDNC leaks really didn't do much to hurt Killary though. All that happened was DWS had to go but as you know, she got a better job working directly for Killary.
—
It's been said that the only republican candidate Hillary Clinton could beat in a presidential election this year would be Donald Trump. Maybe that is why Bill Clinton encouraged him to run last year.
I'm starting to wonder if that may not be the case. I'm starting to wonder if she can really beat anyone which might just lead to a historic one candidate "election" to anoint Killary Clinton as president of the United States.
Stranger things have happened.
With all the neocons, CIA warmongers and GOP fundraisers openly endorsing Hillary Clinton at the moment, you would think she was the republican nominee, but she isn't. She's the Scoop Jackson Democratic pick which makes her just right of Ronald Reagan. That's why these party-switching trolls love her.
But the rest of the Dems, not so much which is why her campaign is actively courting republican votes for November.
The corporate media is running Hillary propaganda non-stop. MSNBC, CNN and NBC "News" have become nothing short of Hillary infomercial providers, attacking Donald Trump all day, every day.
This Khan dust-up dominated their news cycle for a week and a half after the father of a fallen soldier came out on stage at the unDNCC and attacked the political candidate as if he himself were responsible for his son's death. Mr. Khan said nothing about Hillary Clinton standing on the floor of the senate repeating the lies about Iraq from Dick Cheney, using her influence to push other dems to vote for the Iraq invasion and then later said (after Captain Khan died in Iraq) that we should start looking at Iraq as a "business opportunity"
Everything that comes out of Donald Trump's mouth is immediately twisted into some kind of attack against either a minority that they hope to turn against him in November or the nation in general like this whole thing with Vladamir Putin. This whole New McCarthism thing.
And don't think for a minute that The Donald isn't doing his best to help Hillary get elected. I think that's pretty self-evident at this point.
My question is: are they going to get him to drop out of the election before November and let run her unopposed?
They are already talking about "replacing" Trump as the candidate. Not at the convention. That's already over. They're talking about doing it in the run-up to the election. They are also suggesting he may drop out of the race on his own rather than allow this tar and feathering exercise to continue and that isn't as much of a baseless claim as some might think.
Hillary's numbers have gone up as of late but there are a number of things that promise to derail her in the weeks to come. Wikileaks has another round of emails from the DNC that might end up causing her more grief and someone somewhere is eventually going to release her Goldman Sachs speech transcripts which certainly wont help her poll numbers.
She's obviously crazy. Her "BALLOONS!!!" performance at the unDNCC would have ended her candidacy had her name been Howard Dean.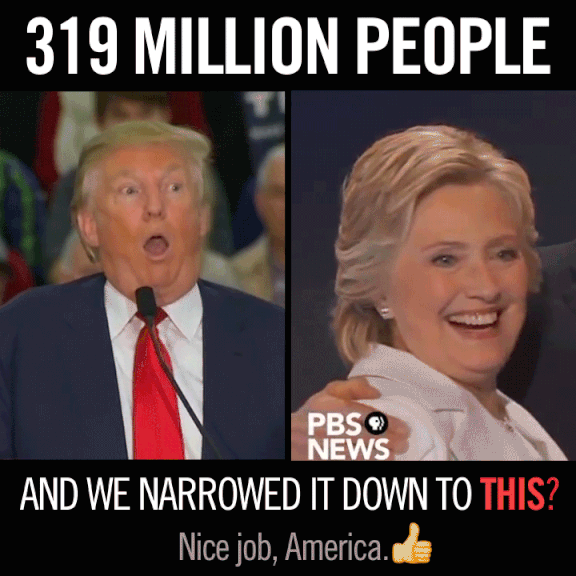 While Donald Trump is doing his best to pretend to be unhinged on her behalf, she really is, and that is the difference between the two in that Gif.
And of course, the more the republican neocon establishment come out in favor of a Clinton presidency, the more dems decide to stay home in November which creates a kind of a polling black hole for her team. How do you poll for the Democratic candidate with Republican voters?
And that is too say nothing of the fact that Trump came from nowhere and slaughtered the republican establishment candidates, the ones who are going to be the last best hope for Killary.
So I wonder if they haven't been doing the math and coming to realize she might not even be able to beat The Donald as he tries his best to throw the contest … which leaves them with two choices: rig it again like they did back in 2000 and 2004 for George W. Bush or … have him drop out and the Republicans decide not to run anyone in his place since it's too late to even try.
If they are dead-set on a Hillary Clinton administration running this country into the ground for 4 years, it may be the only way to ensure she "wins": running her against… no one.
Well, I say "no one" but I do know the Libertarian guy and Jill Stein are out there but they stand about as much of a chance at winning the election as we do getting a new independent investigation into 9/11. It would be nice but it ain't going to happen.
I think it's entirely possible. The nomination process went about as bad for her as it could have. Her theft of the nomination is about as public as it could be and I don't care what Barack Obama says about election rigging being a 'conspiracy theory" the facts are out there if you wish to investigate just a little.
But the truth is, they would rather not have to use their electronic voting machine trick in a general election if they could help it. Using it during the primaries is one thing, but during a general election they have a far better method: rigging the primaries so they don't have to rig the general.
In this case everything worked the way it was supposed to but The Donald can't seem to screw it up enough to turn his own fans against him (probably what the October surprise of his tax returns are being held for) and Hillary is becoming more and more unhinged.
Frankly I can't see them putting her out there on a stage for a debate in her obvious condition. The Donald would have to walk out there with his penis hanging out while wearing a KKK outfit for her to win. And that would be a tad obvious.
Yeah, it may suit their needs a little better if Donald Trump were to either remove himself from the candidacy or have the GOP establishment do it for him.
It's possible there's not a single soul in the Republican party that could lose to Hillary Clinton especially now that she's stolen the nomination from all those millions and millions of Bernie supporters.
I don't know. If I've figured out that she can't win against a guy taking a dive for her, you know her team has as well. They gotta do something. Maybe a one candidate "election" is just the thing to get Killary "elected" this year. Would be something to see wouldn't it?
Filed under: "Decision" 2016!, Scott Creighton |