by Scott Creighton
UPDATE: Question – Does anyone else think that Donald Trump is paying for his son's future political career by throwing this election to Killary? Because the Donald Trump Jr. show last night had a very odd Obama 2004 feel to it, did it not?
—
Nothing of any consequence has taken place so far at the Republican National Convention this year apart from the most unpopular candidate in modern history being selected to run against an equally unpopular candidate from the "Democratic" side in the general election. At least the Dems can say, and accurately, that their disliked and distrusted pick stole the nomination. The Republicans, well, they did this to themselves.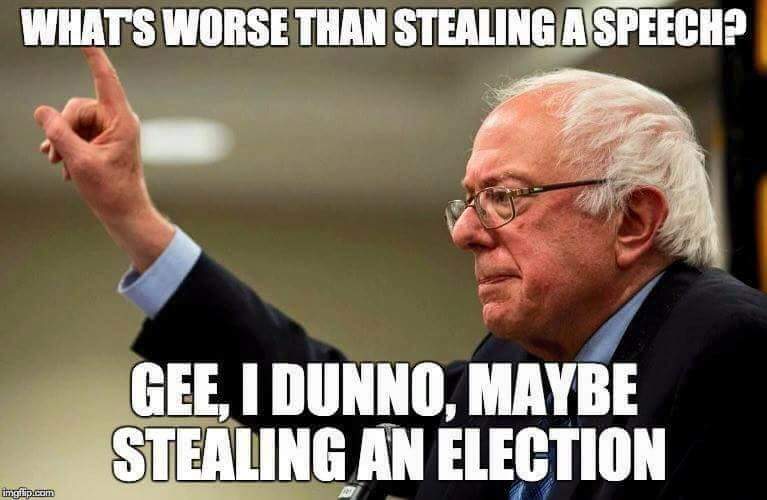 It has been said by smarter people than myself that the only candidate that Donald Trump could beat would be Hillary Clinton and that the only Republican Hillary Clinton could beat is Donald Trump. Perhaps that explains why Hillary was allowed to steal the nomination from Sanders supporters and why she has been given a pass from the Justice Department, the State Department and the International Criminal Court (all of whom have more than enough reason and evidence to bring her up on charges).
Donald once joked that he could shoot someone on 5th Ave. in broad daylight and his idiot supporters would still back him. That's a lovely sentiment in the abstract, but he has nothing on what Hillary has actually done and gotten away with. She giggled about her proxie army shoving a knife up the rectum of a beloved national leader and her brain-dead zombiefied followers still view her as some kind of "peacemaker" because she "negotiated a ceasefire" in Gaza after the IDF finally ran out of ammunition to fire at Palestinian women and children.
Let me just say this right off the bat: Trump's job is to secure the White House for Hillary Clinton which is not that different from what Bernie Sanders' job became in the final stages of his campaign. He was supposed to bring the real left back into the Hillary camp that is populated by the "Republican Lite" class of Dems while Trump's job is to alienate as many factions of the Republican party as possible and serve as the "worse of two evils" option that scares Dems into holding their noses.
Some 700+ delegates cast their votes for someone other than the nominee last night at the Republican Freakshow convention. That's the most in a convention since Ford back in the mid-70s.
After winning the nomination Trump quickly fired the man that was mostly responsible for his success, his campaign manager Corey Lewandowski. He has yet to hire another one.
In his place, the campaign chairman, Paul John Manafort, Jr. has essentially run the campaign aground in the lead-up to the freak-show of a convention. It should be noted that Manafort once pretended to be a CNN journalist while on the payroll of CIA-linked Pakistani intelligence service the ISI. I wonder who is paying him now to pretend to be a campaign chair.
It should be noted that Manafort aided in the campaigns of other great Republican candidates like Ford, G. H. W. Bush and John McCain.
Manafort's valuable input aside, it appears that Donald Trump's kids are running his campaign. His offspring have no previous campaign experience. Even Joe Scarborough says by doing that Trump is "giving Hillary the White House" which is an unusually astute observation from Mr. "I Killed My Intern and Got Away with It"
I have to admit, in terms of demoing one's own campaign, the plagiarism dust-up was a particularly nice touch especially considering who's lines they stole.
Keep in mind, various "sources" inside the Trump campaign are leaking info saying Trump's wife is to blame for the mistake. Even if that is true, a campaign would never admit it. Someone would fall on the sword and say they did it in order to preserve the integrity of the candidate and his spouse. But not this one. We are now 30-some hours into the fiasco and still no one has taken credit for it, leaving folks with the unsettling idea that she did it herself.
And that fact goes straight to the heart of the matter.
In spite of the highly unusual interview that took place before the speech with Trump's wife telling Matt Lauer "I wrote it", Melania Trump did not write the speech. They hired a well known Republican speech writer to write it and what he turned in to them did not include the stolen lines. They added that.
And it's a pretty safe bet that it was added by Trump's offspring. Yeah, they are trying to blame Melania via some ballerina turned writer she likes, but for the most part, that's still a version of "blame Melania"
Ultimately, the fault lies in the campaign staff for not vetting the speech before it was delivered and of course the talking heads and pundits say this shows a lack of control over the campaign which bodes poorly for President Trump in that if he can't even run a campaign, how can he run the country.
Of course, the flip-side to that is… it WAS vetted and the plagiarism WAS noticed and they allowed it to remain in the speech for the same reason it was added to the professional speech they paid for…
Stealing from "man-arms" Obama aside, the Republican Convention is a prime-time train wreck which seems as well scripted as Donald's "reality" TV show was.
Day before yesterday, the theme was "Make America Safe Again" and their keynote speaker was screeching Rudy Giuliani, Mr. "Noun, Verb and 9/11" himself who famously ran away from Ground Zero before Building 7 crashed into it's own footprint for no apparent reason.
How's that for making the audience feel "safe"?
Last night the theme was "Make America Work Again" or some such nonsense and I can say it's nonsense because not a single speaker spoke to that theme. Not a one. It should have been the "Talk About Hillary All Night" night because that is all they did.
Oh, well wait… they did anoint Donald Trump Jr. as the "Next Big Thing" in the Republican Party. That happened.
Here's a little insight into the kind of pathetically obvious manipulation that took place last night.
As the delegates gave the counts to the speak, some states reported numbers that didn't jive with what the speaker would then report as the official count. As an example, Alaska. They reported a number of vote for Cruz and Kasich which ended up being given to Trump, much to the chagrin of the delegates from Alaska. And they couldn't understand it because some other states that did the same thing did have their actual numbers recorded by the official count. That's how there were 700+ delegates for candidates other than the nominee.
And I couldn't understand the difference until they got to New York and a Trump offspring was dramatically able to cast the delegates for his state for The Donald which put him over the top ("toss him over the top" as the new Golden Boy of Repubs said)
Ah… they massaged the numbers of the count so Donald Jr. could have his dramatic moment. What a WWE moment that was, huh?
Smoke machines, controversy, sappy scripted moments and the occasional Code Pink protester getting her meaningless sign ripped from her clutches. Oh yeah… and dancing over-weight middle-aged rhythm-challenged  white people .
This is the freak-show the party of Lincoln put on this week thus far. Who knows what new lows it will sink to by Thursday's Trump speech.
The world is falling apart. The CIA's coups are failing in Turkey, our moderate terrorists are beheading Palestinian children on live video streams, the Brexit bug is spreading across Europe like the clap in New York on Fleet Week while banks all across the region are about to go bust in a multi-trillion dollar implosion that will shake the global economy like nothing we have ever seen before.
Shit is hitting the proverbial fan by the shovel full and these idiots are dancing around because a billionaire they think is "just like them" is doing his level best to make the most criminal candidate in history the next President of the United States… and they… just… don't… get it.
As ridiculously horrific as this convention has been thus far, it will pale in comparison to what happens in a week or so when Killary Clinton accepts the stolen nomination of the Corporatist Democratic Party of America. That is going to be a melee; a free-for-all of anger, resentment and abject disappointment on a biblical scale.
There will be tens of thousands in the streets and hundreds protesting inside the building til they are whisked out like a California congress critter running from a caucus before she is mauled by the angry Sanders mob.
As bad as my review of the Rethuglican Sideshow is, surely my opinion of the Neoliberal Dems' event will be worse. Much, much worse.
No Greenmon, there is no joy in Mudville today. Casey Jones struck out and his clean-up batter, Donald Trump, is taking a dive in the 9th. Turns out he's been betting on his own games all along.
Seems we are stuck. The pennant goes to Killary and there is not much else we can do about it.
Look at the bright side: four long years from now Donald Jr. will run with Jeb Bush. Wont that be nifty?
I should kill myself.
Filed under: "Decision" 2016!, #EmailGate, #SellOutBernieSanders, Bernie Sanders, campaign 2016, Clinton Email Scandal, CTHULHU 2016!, Donald Drumpf, Donald Trump, Election 2016, Electronic Voting Scams, Globalist Clinton Scum, Globalist Skank Watch, RNC convention 2016, Scott Creighton |