by Scott Creighton
UPDATE: Food for thought. One the first day of the story, the "ISIS" pledge story was "leaked" by authorities while all those witness statements about Omar being gay and a regular at the nightclub never were. What does that tell you?
—
Looks like there was a reason the authorities withheld the witnesses from the press for as long as they could. Well, that is, they withheld the witnesses that weren't professional actors like Christopher Hansen and this guy (thanks Crys)
He's the guy who said he held the door shut while people inside the club were "banging on it". And it's confirmed, here is his IMDB page.
Now that the witnesses are freed from their debriefing with the Feds, a very different picture of Omar Mateen is starting to emerge.
Even his ex-wife says… wait for it… wait for it…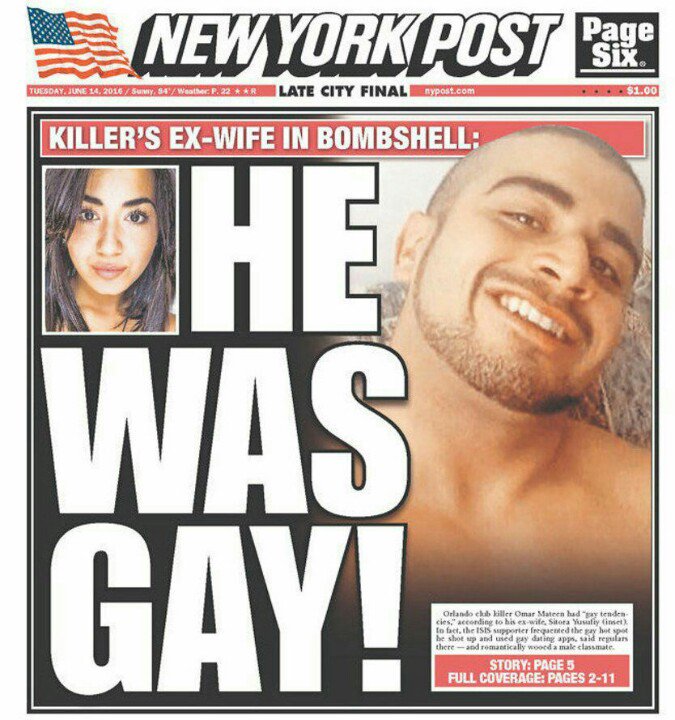 Yes, Omar Mateen, the new Hitler of the LGBTQ community was in fact, gay. And according to some of those witnesses the Feds kept from the press for the first few days as the MSM fabricated the official story of this shooting, he was a regular at the club. Not only that, but several people have come out and said he tried to "hook up" with them on various gay dating apps like Grindr and Jack'd.
He even appears to have gone shopping on Saturday before heading over to the club to hang with friends he knew.  Why would a guy who intends to go kill all his friends and go out in a blaze of glory for "ISIS" go shopping right before he does it? It doesn't make sense.
This story is beyond fishy. It's whack.
Many have said he was a "regular at the club for years" which dovetails with reports from old friends, old gay friends, that he would hang out with them a few years out of high school and go clubbing as well as the report from his ex-wife that they would do the same thing at gay bars and nightclubs. She said he had "tendencies"
According to the tracking of his cell phone, Omar spent the day at Disney Springs on Saturday before heading out to Pulse.
Disney Springs is a trendy shopping area full of expensive little shops like Filthy Rich, Johnson & Murphy, Kipling and American Threads, just to name a few.
The Feds have yet to disclose whether or not he bought anything on Saturday afternoon. That would be an interesting discovery, now wouldn't it?
Some witnesses from the Pulse that night have him drinking alone at the bar while others say he was apparently with another man. The conflicting nature of those statements can be explained simply by what time they saw him or whether or not he was talking to the guy sitting next to him when they noticed him or not.
But the point is, he was there drinking… for a while… and possibly not alone while doing it.
One witness even said he spoke briefly to Omar, saying "hello", that kind of thing. He said he seemed normal at the time.
Point is, the "evil Muslim hating the Gays" story is out the window. It held up for a little while as a possible motive, but it HAS to be gone.
He wasn't there a couple of times in the recent past to scout the location. According to the regulars at Pulse, he had been a regular for years.
And his gay friends talk about how comfortable and even at ease he was with them while his ex-wife actually says that's because he was gay.
In all likelihood, he was gay.
Now all we are left with is some undisclosed source from the investigation saying he pledge allegiance to "ISIS" on the phone as the standoff unfolded. That's all we have and as we all know, law enforcement spokespeople never lie.
Last night I watched a bit of Rachel Maddow's show and she has turned into Pam Geller and Rita Katz. Her whole show was about how "ISIS" is so diabolical, they motivated this guy (she was saying this "gay hating guy") to attack this club and do it for "ISIS" without ever having contacted "ISIS"
She was off the chain with her war-mongering about "ISIS". It's fair to mention, Maddow is openly gay.
Trouble for her is she kept talking about how "ISIS" does this stuff while trying to bolster their public image as being able to run ops like this without having to run the ops. She and her guest talked at length about how all "ISIS" wants is the publicity in order to make them appear more powerful than they really are.
And she talked about them for the entire show.
She did EXACTLY WHAT SHE CLAIMED ISIS WANTED. She made them into some kind of all-powerful entity that could warp the minds of the young and old alike into doing their bidding from across the seas…
With absolutely no evidence that ever happened. Except for what someone at NBC claimed was a statement from an undisclosed official source.
Sounds kinda like WMDs in Iraq.
Sounds like "they hate us for our freedom"
Seems to me the very last thing our law enforcement professionals would want to do is promote a serial killer or a psycho of some kind when he's on a killing spree right? We don't give crazy people the one thing they want: more attention and celebrity status…
Unless of course, it's "ISIS" and then we seem to go to great lengths to make sure they get credit for things they probably have nothing to do with.
Right?
I wonder why that is.
And my opinion on this is not in the minority. In fact, it's an industry standard:
So why is it that we go to great lengths to promote "ISIS" after these events, even if they are only linked to them in the flimsiest, most tangential way?
Makes you think doesn't it? Maybe it should make you think about that new Authorization for Use of Military Force that Obama, military leadership and the CIA wants against ISIS.
Did I happen to mention Omar worked for a company that contracts with the CIA? Did I mention that?
Ultimately, we now have a story about a gay man who frequented this club pretty regularly over the past several years, sitting around having drinks and enjoying his night with friends, who suddenly went off and produced an AR-15 from his asshole and started shooting up the place for no apparent reason. He didn't drive his own car there and it may be that he actually went shopping just a few hours before hand. I would love to know if there were bags in that rental car from American Threads. That would be interesting.
The story is bullshit. The "ISIS" connection is weak at best. The witnesses seem to be actors, or at least the ones they allowed to do all those interviews over the last few days while they sat on the ones who would say Omar was a "friend", "gay" and a regular at the club.
Fishy doesn't even begin to explain this story.
Filed under: American Gladio, Pulse shooting event, Scott Creighton |