by Scott Creighton
(see UPDATES at end of article)
Just over 24 hours after the shooting in Orlando of singer Christina Grimmie at a nightclub, there has been another shooting in another Orlando nightclub. The first shooting took the life of Grimmie as she was signing autographs after a show. Her attacker, identified as Kevin James Loibl, was not from the Orlando area but rather from St. Petersburg. Loibl was tackled on the scene by bystanders after he shot Grimmie and he was carrying a couple handguns so a mass casualty event was likely foiled by those people who responded by attacking him very quickly.
The very next night, we have another shooting at another Orlando nightclub and this one did turn into a mass casualty event.
20 people are reportedly dead inside the club with another 42 injured and taken to local hospitals.
The shooter is dead.
All we know about this new shooter is that, like Loibl, he "was not from the Orlando area" and his motive, if there was one, is not immediately clear at this point.
This new shooter from the Pulse nightclub, a gay nightclub, had the requisite number and types of firearms as many of the previous American Gladio events: hand gun, extended clips and of course, the obligatory AR-15 assault rifle.
I do not know at this point if he was wearing body armor and a mask as many of the other shooters have in the past.
From what I know so far, at around 2:02am Sunday morning, shots rang out inside the club and witnesses said it was about 20 or 30 shots. People started fleeing through the exits and at some point the shooter is supposed to have exited the building only to run into the off-duty uniformed Orlando police officer who was working security that night. They exchanged gunfire and the shooter went back into the club. No substantial injuries have been reported to law enforcement officers by officials.
From there it get kind of fuzzy.
It is said that they suspected they had a hostage situation on their hands in the dark nightclub. More club guests were still in the building, some sending out Tweets as they hid.
The law enforcement teams massed outside for the next 3 hours and then, the decision was made to breech and make entry into the club in order to "prevent further loss of life"
What has not been made clear is whether or not there was gunfire heard by officers during those three hours they were waiting outside. Which is an important detail.
Somewhere around 5am officers breached the building with flash-bangs and apparently some explosive device that took out a section of the exterior wall.
After that, there was a sustained gun-battle with the shooter and he was reported dead sometime around 5:45am.
Bodies still remain inside at 8:30am. They are concerned about what they call a "device" on the body of the shooter. They seem to know his identity but have not released that information.
Whether or not it is connected with the shooting from the night before has not been made public.
Neither has the motive.
They are reporting that the venue holds about 300 at capacity. With 20 dead and another 42 wounded (or otherwise injured), that's a pretty high percentage for a shooter firing "20 to 30 rounds".
Could it be LEOs mistook fleeing victims for a shooter in the dark nightclub at 5am in the morning? Remains to be seen.
There were early reports of a second shooter but it seems someone may have been talking about the officer outside firing at the shooter as he exited the building. Again, remains to be seen.
Here's a photo reportedly of a victim from the shooting.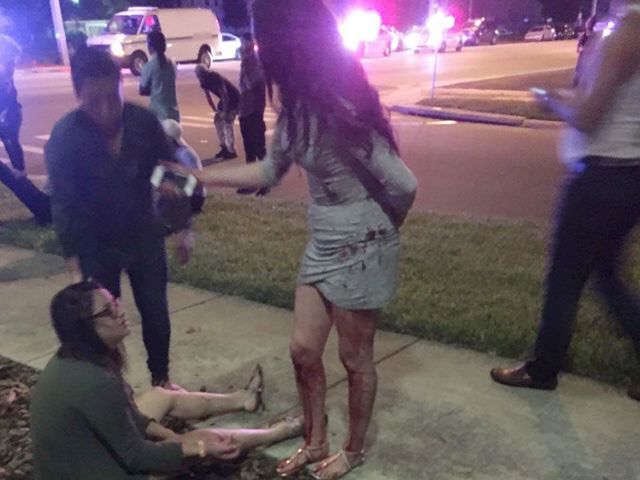 The #Pulse Twitter feed is riddled with gun-grabber Tweets already. Debbie Wasserman Schultz has taken some time off from stealing the nomination from Bernie Sanders in order to rant about there having been some 300 or so mass casualty shootings in the US in 2015.
It's being called an act of domestic terrorism though no information has been released as of yet supporting that claim. That doesn't stop the Islamaphobes from blaming the Muslims already.
Some are already trying to counter this current meme.
At this point I don't have much more information. I will update article as more info becomes available.
Sorry to start off your morning with this news.
UPDATES:
9:06am Now they are saying he had multiple handguns and that there were as many as 100 club-goers still in the building at 2 am. Witnesses said they heard "50 or more" shots fired when officers breached at 5. A hundred club-goers in Pulse when this took place and 20 dead, 42 injured? That's an even higher percentage, is it not?
9:38am The mother of some assumed victim who's spending an awful lot of time in front of CNN cameras, now says her missing son texted her "he's rounded us up and now he's going to kill us". Seems kind of odd that a shooter would round them up and let them send out texts or Tweets before he does them in. All very dramatic and heartbreaking, isn't it
9:44am Some fake "ISIS" accounts (probable Islamaphobes working for Rita Katz) are praising the attacks already.
9:47am NYPD counter-terrorism task force is reportedly "aiding" in the Orlando "investigation"
9:47am Shooter identified as Omar Mateen, born in New York and currently living in Port St. Lucie, Florida.
9:55am Shooter supposedly lived in Fort Pierce for a couple years prior to last night. He was a registered Democrat. His parents are both from Afghanistan. He was born in New York in 1986. [see photo of suspected shooter at beginning of article]
Filed under: American Gladio, Pulse shooting event, Scott Creighton |