by Scott Creighton
We don't know much about what happened to Egyptair Flight MS804 except for the fact that it is gone and authorities still don't know why.
Earlier I posted information about a naval exercises drill taking place in the exact location where Flight MS804 suddenly went off radar.
Later yesterday, Greek authorities released a little more detail about what happened with the plane's recorded flight path. It seems they turned suddenly 90 degrees to the left then turned hard to the right 360 degrees while descending at a very rapid rate until they dropped off radar coverage.
Here is a graphic showing what was reported by Greek authorities.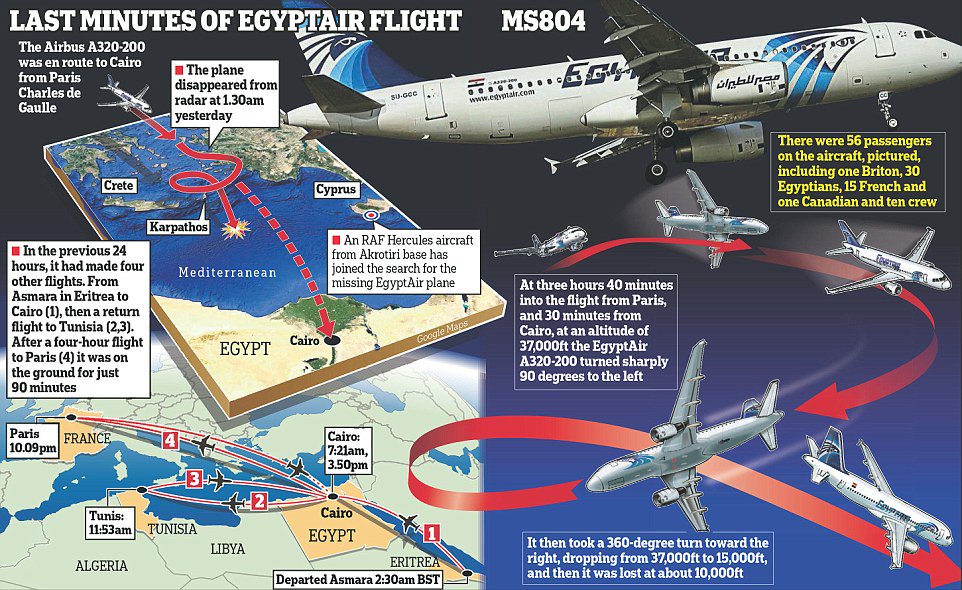 I hypothesized that the pilot may have been trying to avoid an approaching missile and that would explain why such drastic maneuvers were made.
This morning I decided to see if there was any technique that might resemble these last actions of the pilot and the plane. This is what I found:
"If the missile is closer, you will have to narrow the energy gap using geometry. Remember that the missile is flying a lead-pursuit course. It's always going to point out towards where it thinks you will be at the time of impact. If you beam the missile (turn 90° towards its heading) and accelerate to a high speed, it's going to point very far to the left or right of your location — especially if it is still far away. Make a 180° turn to beam in the opposite direction, and the missile will have to drag itself all the way around to point in the other direction. This maneuver uses up valuable energy that could otherwise be spent gliding a longer distance.

By performing this beam reverse maneuver, you force the missile to bleed as much energy as possible turning left and right to maintain its proportional navigation course.

Beaming the missile also increases the chance that the missile's radar will drop lock, due to the Doppler notch… Quora.com

In this case, after being locked on by an air-to-air missile, the pilot would attempt to break lock by turning into the oncoming missile which forces it to correct it's path, moving hard left or right in order to regain lock on the flight path ahead of the target. Then the pilot (if I understand this correctly) turns abruptly once again, in the opposite direction, 180 degrees in an attempt to break the missile lock and force it to use as much fuel as possible to reacquire and close on the plane due to Doppler Notch.
Then there is this:
"Radars have poorer "look-down" performance — this is due to the radar having to filter ground clutter as opposed to tracking targets against a clear blue sky. By staying underneath the missile, the pilot can reduce the effective range of its radar, and increase the likelihood that it loses radar lock." Quora.com
That might explain why the pilot descended so quickly. He was trying get under something chasing him. He may have also been trying to use the rapid descent to gain speed. The idea there being if he could increase his speed sufficiently, the path the rocket's lock put it on to intercept the plane, would end up being behind his position.
This is just a working theory a way to try to explain the plane's last reported flight path. It may have been a crippled plane in the process of crashing… or it just may have been a pilot's desperate attempt to out maneuver a locked on missile.
—
Last month I had hoped I wouldn't have to do a donation drive this month, but things don't always turn out the way you expect them to. If you can help with anything, it would be appreciated. Thank you very much.
"a place where those who hate ignorance may strive to know, where those who perceive truth may strive to make others see." John Masefield
(For my mailing address, please email me at RSCdesigns@tampabay.rr.com)
Filed under: EgyptAir Flight MS804, Scott Creighton |