by Scott Creighton
For years the story has been there was never anything called 'Palestine'. It's the go-to, fall-back position of the Zionist apologists and sympathizers. Palestine never existed, so there cannot be any recognition of Palestine by Israel.
And for years, more and more of us have tried to show how over the last 60 years, Israel has stolen Palestinian land bit-by-bit to the point where all the Palestinians that are left live on little Bantustans like they were blacks living in South Africa under apartheid.
This map have been very helpful over the years in illustrating the Zionist's efforts.
US media outlets have been rather forceful when it comes to supporting Israel's occupation and land-grabbing efforts in Palestine. They would never even think of showing this graphic on their websites, much less air it on one of their programs.
That is, until today.
Today I saw a Tweet from @Dena where she found a screenshot of MSNBC airing a version of this graphic, live during one of their shows. She Tweeted about it and received the requisite smearing and hate-mongering from various Megaphonies in a manner of minutes. Here is the MSNBC version: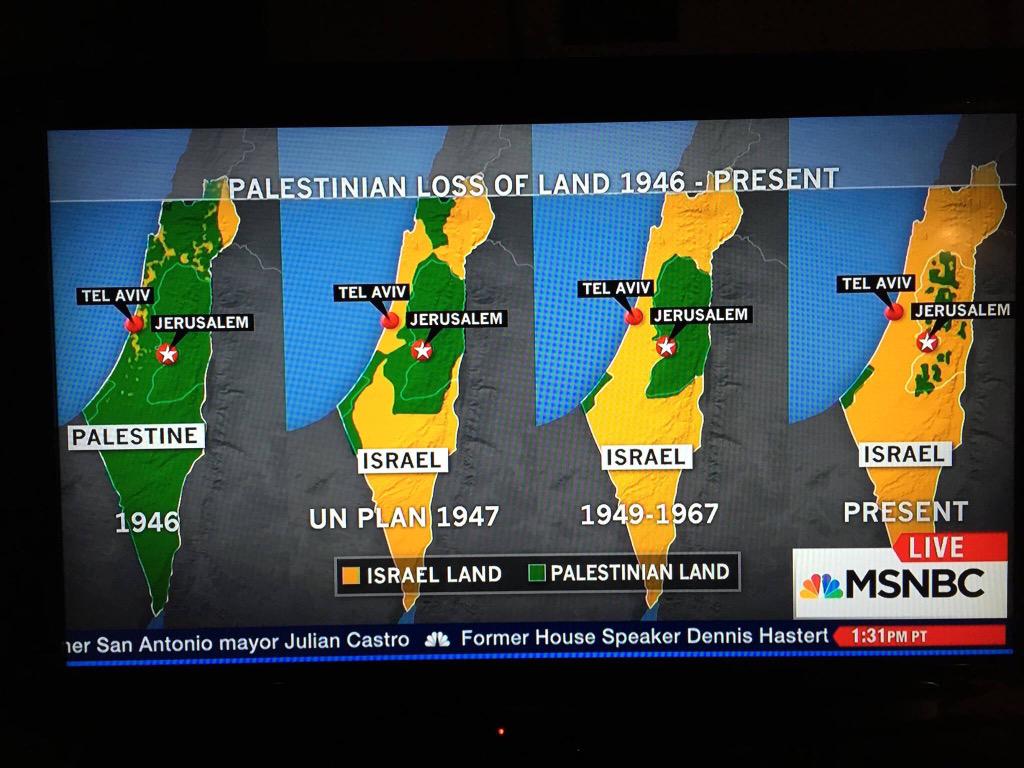 The instant vitriol being unleashed on Dena is to be expected. I'm curious just how much they are attacking MSNBC.
Their story about Palestine never existing has fallen apart and even the complicit media organizations are giving up on it. But that doesn't stop the fanatical right-wing Zionist zealots from posting their lies and screaming death threats at anyone who dares mention Palestine without saying the word "terrorist" after it.
Here's how the idiots try to discredit this, now mainstream, illustration of Israel's contemptible land-lust.
Talk about denying someone's right to exist. Talk about wiping someone off the map. Talk about someone erasing a nation from the history books.
Yes, that's all being done. By Israel.
If you are looking for a reason MSNBC did this, you probable don't have to look much further than Barack Obama. MSNBC is the "All Obama All the Time" channel and Barack did recently say the only way to solve the conflict in Israel is a "two state solution"
So, it's probably in support of yet another Obama agenda that motivated MSNBC to finally acknowledge a little of the indecency of Mother Israel.
Or, someone could have Photoshopped it in order to stir up a little discourse on the subject.
Either way, Dena is getting raked over the coals by the Megaphonies over at Twitter for daring to share the MSNBC image.
Tempers are flaring in Zionist land. Kill a few more kids and see what happens. You would think they'd have learned that by now but I guess land-lust blinds them to the things most civilized people take for granted.
Thanks for sharing the image Dena. Hang in there.
Filed under: Uncategorized |